Post by Doctor Kaijin Vex on Mar 15, 2019 20:58:36 GMT -5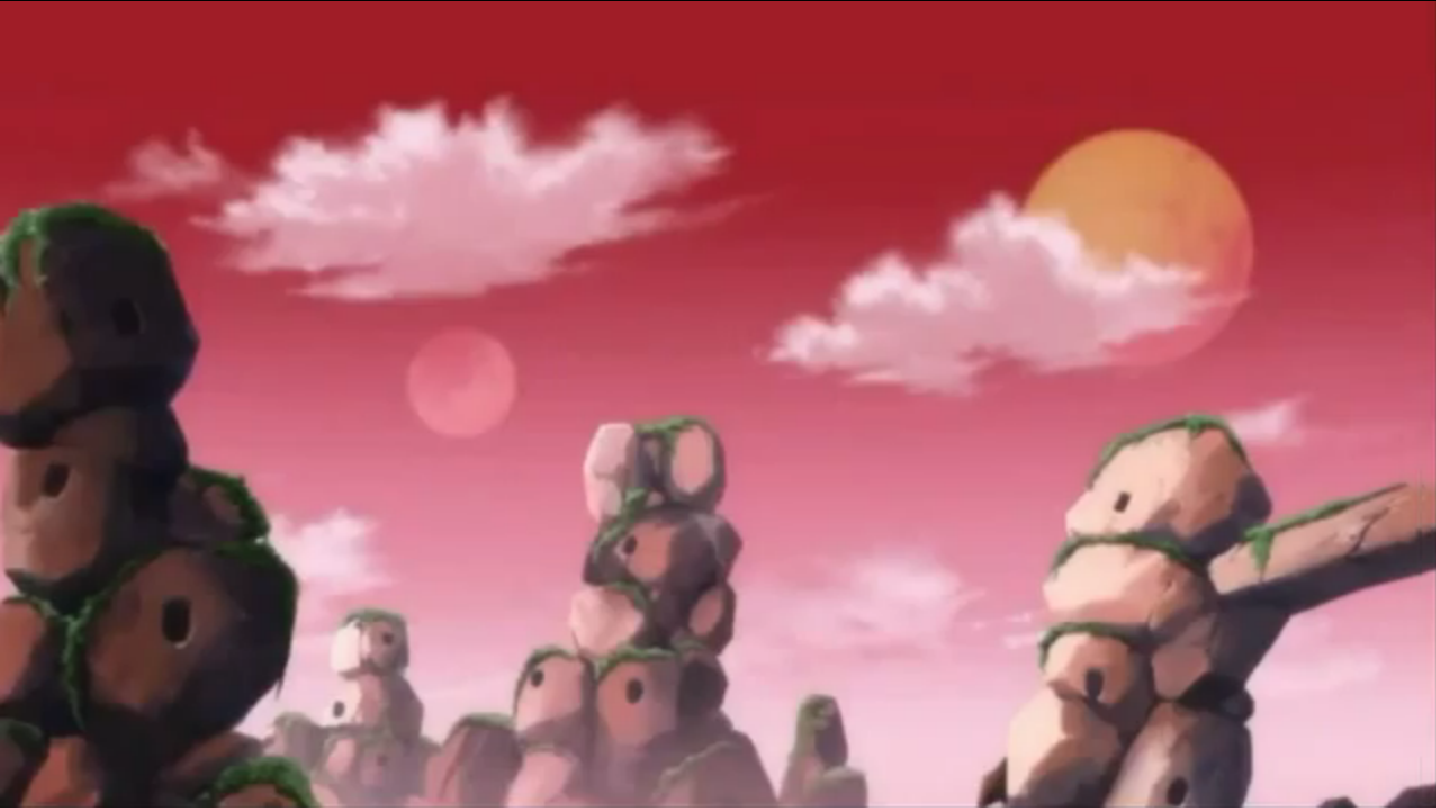 Cassava's method was simple, yet clever. Especially considering any coordinates that Abura Komatsuna would have given them would have been inaccurate as of several days ago. Not by any fault of the poor doctor's own, of course. Vampa's Claw was not a large group, and was largely nomadic in function, making temporary encampments rather than permanent civilizations. As a result, they mainly stuck together, making it easy pickings for Cassava and Lettice to track the conglomerate of varying power levels. Their travels would take them into the Vegetan Jungles, where the trees and foliage were thick, and the underbrush even thicker. As the group got closer, the sounds of vibrant life were abundant. Wildlife, trees, shrubbery. What was going on? Not too long ago, the soil would not have been able to support this level of life, nor could one say there were any animals either. What could have been responsible for this? Why was a dead world suddenly reviving itself?
What was going on on Planet Vegeta?
---
Meanwhile...
"Chieftess. It is almost time for the Yoake Celebration. Our people will be expecting your attendance." A male's voice spoke from outside the large, white tent that served as Hakusai's place of residence.
Yoake Celebration, huh? Celebration of Breaking Dawn...that's today...hmph, how the days fly.
A celebration of her people's escape from Planet Vampa two years ago. A day of celebration, as well as a day of remembrance. A symbol of her people's suffering, as well as a symbol of growing hope, and the dawn of a new era. The name Yoake, which roughly translated to Breaking Dawn, represented the end of what was nearly two decades of imprisonment on that wretched Planet Vampa, with no transportation off world, forced to fight for their lives every waking moment. Two years ago, their imprisonment ended, allowing them to take to the stars once more, before making their home on Planet Vegeta several months ago. Two years ago was also when Chieftess Hakusai, leader of the Vampa Claw, earned her title over her tribe, and fearlessly led them back into the unknown...into the greater galaxy, the likes of which they had been exiled from for nearly twenty years.
"Thank you, Kail." She spoke, moving to stand. The dark skinned Saiyan woman took a moment to flex her cybernetic left arm, the high tech prosthetic the result of a very shady deal and a few favors on Space Vegas. As she turned her gaze to settle upon her older brother, Kail, she allowed a soft smile to cross her features. They had gone through too much. Two decades had hardened the both of them. She was only six years old when she was taken to that wretched lab, her parents volunteering themselves along with her and her older brother to participate in what was to be the most "monumental experiment in Saiyan history". That wretched Doctor Abura, subjecting them to his ideology, claiming that this was for the "greater good", and that their service would lay the foundation for the future of Saiyan Warriors. But alas, all they turned out to be was a mistake. The gene infusion, it ruined them. To this day, Hakusai could feel her bones pulsating, her bestial tendencies lying dormant beneath the surface. Abura played them like a fiddle. Experimented on them, treated them like dolls to be poked and prodded, proudly showcased them before other Saiyans, and when his horrid experiments backfired, threw them away to Planet Vampa to be killed by the beasts of that horrid world.
Her own parents had died within the first few years, mauled by Vampa Beasts. Since there, Hakusai had trained vigorously, pitting herself as the leader her people needed. Hardened Saiyan Warriors, once proud, decorated officers, broke under the pressure of their exile. Hakusai refused to give in, and gave her people a voice to be inspired by. Two years ago, she became Chieftess of the Vampa Claw Tribe, and from there set the able bodied engineers to jump starting the damaged vessel that had left them stranded on the planet. It took a long time, months even, to find a necessary power source, but they did it, giving them enough power to flee to Space Vegas before the ship quite literally fell apart. From there, it had been a rough journey. But this Yoake Celebration was a new beginning.
And she'd be damned if she let anything damper the spirit of her people.
"Will you escort me out to greet them, dear brother?" She smiled, offering her good arm to the taller man. Kail chuckled and moved forward, locking his arm with hers.
"Let's let them know what unity looks like." Kail said, before they began to move out of the tent.
---
Nomads followed the food, so it was only natural that the Vampa Claw Encampment was located near the jungles, where life signs were the more vibrant. The settlement itself seemed to fit the general description of the stereotypical nomadic tribe, with white tents strewn in a rather organized format throughout a large space. Campfires were lit throughout the camp, which also seemed to buzzing with activity. Men, women and children ran about, setting up stakes in the ground, and setting up multi colored wooden decorations. Those who didn't seem to be doing anything at the moment, were huddled in small groups, conversing lively with one another. As Cassava and Lettice would draw closer, it would become more and more apparent that the people of Vampa's Claw were preparing for some form of...celebration? Party? It was hard to tell, but the general mood was one of excitement and festivity, rather than the dark, brooding nature that one would expect from people trapped on a hostile planet, and were subjected to be in close quarters with someone like Abura for any extended period of time.
That wasn't to say they weren't vigilant, however. The stoic figures of guards stood watch over the horizon, men and women alike dressed in various forms of broken armor and rags, holding various forms of primitive weaponry, from axes to spears, and some with no weaponry at all. Their rotations around the camp were strict and disciplined, offering them a wide coverage over the perimeter and beyond. It was amazing, almost...how a group of barbarians could be so organized.
But, of course the amazement would have to wait for later. Judging by the looks of things, Cassava and Lettice had two options. If they continued to dawdle near the camp, they would surely be spotted by the Claw's guard. And it was safe to say that Vampa's Claws, after so many years cut away from society, weren't that fond of visitors snooping in on their activity.
Will the group attempt to sneak across borders and attempt to observe the camp without being spotted?
Or will they attempt to shoot down to the surface, using what they hoped was superior speed to their advantage to get to the middle of the encampment before the guards could react?
Note: If attempting Option 1, Cassava and Lettice will need to roll a Status Check for Stealth in order to remain undetected by the guards as they sneak across the perimeter for a closer look. If attempting Option 2, Cassava and Lettice will need to roll a status check for Speed, in order to be fast enough to bypass the guards before they can appropriately react, and get to the center of the action as soon as possible.

Option 1: Cassava and Lettice have a 65% chance to grant themselves the boon Undetected, in which you are able to remain unseen by the guards for that turn. Stealth Roll must be rerolled each turn to maintain Undetected.

Option 2: Cassava and Lettice have a 45% chance to grant themselves the boon Godspeed, in which you are able to shoot past the guards, throwing them into confusion and disarray, sending yourself right in the middle of the encampment. Guards and other personnel will be unable to mobilize and attack for 2 turns, or unless you attack first, allowing for dialogue to be safely initiated within such a timeframe.
Word Count:
1,180 |
Total Word Count:
5,025 | @brisk |
Lettice
|
Cassava