Post by Doctor Kaijin Vex on Apr 18, 2019 1:48:19 GMT -5
THE BARRIER IS BROKEN! The teams are reunited!
Also note. After playing this RPG since August, I seem to have just learned how PL ascension with Kaioken works. Wooooot. Will update PL this turn to reflect new changes.
The barrier was broken. Hakusai could feel the broken remnants of her barrier dissipating into wisps of energy. Why and how it was broken, Hakusai could only theorize, for at the moment, she had bigger fish to fry. And Abura was a pretty large fish. She couldn't help but act rashly. He just brought forth that much emotion. She was trying, trying desperately to calm down, and to take things one step at a time. Yet the fire of fury burned bright in her heart, and she could feel herself being spurred into action time and time again.
As the blades of energy raced towards her, Hakusai sprung into action. Instead of retreating, Hakusai met the attack halfway. Her body exuding large quantities of green energy as she charged forward. Abura's words cut through her like a knife, and only served to enrage her further. Abura enjoyed this. He enjoyed the pain he caused them all those years ago, and sought to inflict more upon her and her people. The image of her parents flashed across her vision, their broken, mangled bodies after that one hunt on Planet Vampa....
The sight of her older brother, Kail, when he first discovered his powers, and how he sat in his room for twenty four hours crying when he was twelve because he felt like he was going to die, because he felt his energy draining rapidly from his systems as he uncontrollably distributed it throughout the entire encampment. The sight of children born with horribly deformities, only to die moments later conception. It was all Abura's fault. And the man had intent to inflict more pain upon the afflicted. To derive more pleasure from suffering, as if what he did wasn't enough.
To see the faces of her brother, the elders, the children and the parents....subjected to his experiments, the majority of them for the second time in their lifetimes. To see the faces of the young, who had never suffered the horrors of Dr. Komatsuna being yet another corpse on his wall, or another meal for the goddamn cannibal.
She was no little girl anymore. She was an Avenger.
The moment of contact with the blades was like a small bomb being set off. An explosion of green and gold lit the laboratory, as Hakusai crashed straight through the energy constructs, and a moment later her fist launched across air, smashing into Abura's face with enough force to send the scientist spiraling.
And when Abura gazed upon her next, it was as if Hakusai was a different woman. The golden glow of her Super Saiyan form noticeably lightened her skin, her hair had morphed from its' standard jet black to a brilliant blond, illuminated by the shimmering gold of her aura. Bright green specks of light flaked off from her figure, dotting the air around her like fireflies in the night.
Glaring at Abura, she readied herself for battle, her cybernetic arm flexing slowly.
"I don't know what you're hinting towards, Abura. But it better not be that you're going to harm my people. My family. You better get it out of that twisted head of yours that you are going to subject us just as you did all those years ago. Because this time...I'm ready for you. And this time? I AM NOT A LITTLE GIRL! FACE ME, ABURA!"
Hakusai screamed, her golden aura erupting around her as she charged forward, green energy set ablaze in her hand, condensing in two, volleyball sized spheres of energy that she sent soaring towards her fated enemy. As she soon as she let them fly, two more spheres erupted in her hand, and she sent those as well. Then two more. Then two more. The volley just continued, with the newly formed Super Saiyan pounding on relentlessly.
HAKUSAI, THE LONE AVENGER


DEFENSIVE SUMMARY

Bonus Action Reactive: Hakusai uses Clash to reduce dmg to 13! Indomitable reduces dmg to 9! Hakusai sends 13 direct dmg back to Abura! Immobilize inflicted!
At-Will: Hakusai trades in 3 stacks of Endure to gain 15 toughness!


OFFENSIVE SUMMARY

Special Condition: Hakusai transforms into a Super Saiyan! Hakusai's T1 multiplies Base PL by x4 instead of x3! Hakusai suffers an additional 1 Ki Drain each turn!
At-Will: Hakusai uses Kaioken!
Edge II gained!
At-Will: Hakusai uses Martial Arts Gi to increase accuracy by 15 and increase dmg tier by 1
Standard Action: Hakusai uses Condense!
Standard Action: Hakusai uses Vacation Delete on Abura!
Passive: Transformation drains 1 Ki!


---



Bonus Action: Enhanced Reflexes: Retaliation (Clash)- As a bonus action you avoid all but the highest rolled damage die from a non-critical attack that hit you. You also deal the highest damage die back to the attacker as direct damage. | -8 Ki


At-Will: Extreme Resilience (Endure)- As a reactive at-will you can spend three stacks of Endure to give you 15 toughness.

At-Will: Full Powered Super Saiyan (Kaioken)- As an at-will action you increase your base PL by +40% (x1.4) per 1 HP spent to a max of +200% (x3) and your damage tier is increased by 1 with all attacks for the duration. | -5 HP

At-Will: Unparalleled Ferocity (Martial Arts Gi)- As an at-will action two attacks of choice during your turn add 15 to their accuracy and boost their damage tier by 1.



---


Standard Action: Condense

Effects - As a standard action one Super Attack during your turn adds two extra damage dice. A condensed attack cannot be avoided through Rapid Movement or have its damage negated by Guard.
Ki Cost - 3 Ki

Standard Action: Vacation Delete [Condensed, Malicious, Kaioken, Martial Arts Gi]

Effects - Charging Major
Ki Cost - 5 Ki
Acc - BXP5OljH1d100+45
Dmg - 5d12+20 OR 5d12+20


At-Will: Enhanced Regeneration (Flow)- Regain 3 HP


---


ACTIVE EFFECTS

35/60 Toughness
Edge II
Transformed
Measured
Malicious
Kaioken (5 turns remaining)
Immobilize (2 turns remaining)
0/3 Endure
25/50 Resolve

FIGHTING STYLE

Reserved
Special Skill: As an at-will action you restore 3 HP or 3 Ki to self or a comrade during your turn (cannot be Incapacitated.)

TRAITS

Rampage- As an at-will action you add an additional damage die with a value of 2d6 for Super Attacks and 1d6 for Basic Attacks with each attack you make.
Efficiency- All barrage-type Super Attacks have their ki cost reduced by 3.
Indomitable - As a passive effect you negate 4 damage taken from every Super Attack and 2 damage from every Basic Attack that hits you.
Endure- As a passive effect if you lose at least 5 HP or toughness during your turn you get one stack of Endure. As a reactive at-will you can spend three stacks of Endure to give you 15 toughness. Max of three stacks at a time.
Resolve- As an at-will action you recover 1 ki per 1 point of toughness spent during your turn to reduce damage.

TRANSFORMATIONS

Super Saiyan (Tier 1) - As a bonus action you assume this form for the duration and gain x4 base PL. Lasts until you power down, reach 0 Ki or 0 HP.

Perks: Measured, Malicious

EQUIPMENT

-Martial Arts Gi
-Obi
-Senzu Bean (1/1 use remaining)
-Virus (0/2 use remaining)

OTHER ITEMS

War Cruiser - Lets you call down a bombardment as an at-will action, once per battle. The bombardment deals 3d4 damage to all foes. (0/1 use remaining)

SUPER ATTACKS

Vacation Delete (Signature Rank III) - Barrage | Charging


TECHS

-Sonic Sway III (1/1 Use Remaining)
-Aura Guard III (1/2 uses Remaining)
-Energy Shield III (0/1 use Remaining)
-Clash III (0/1 uses Remaining)
- Absorb III (1/1 use remaining)
-Deflect III (2/2 uses remaining)
-Psychic Powers III (Unlimited)
-Psycho Threads III (2/2 uses remaining)
-Afterimage III (0/1 use remaining)


LEGENDARY

-Perfect Barrier III (0/1 use remaining)
-Kaioken



CURRENT PL: 720,000
HP: 72/90 | KI: 85/115 | DEF: 50 | DMG DIE: d12+1 | ACC: +30
---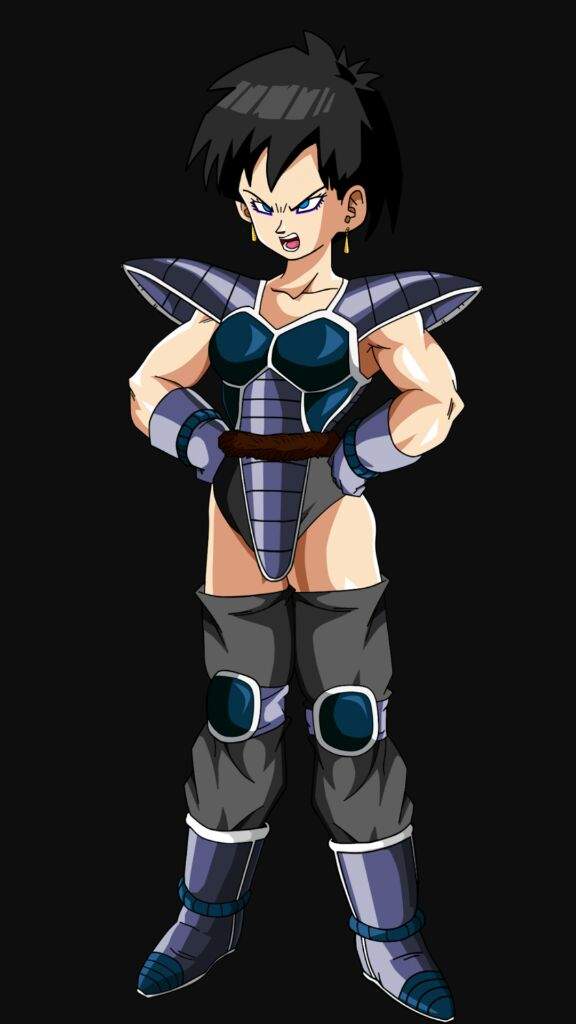 Dare say she believed it was over.
Whether she was facing some demonic Super Saiyan or not, the caliber of energy and destruction that Vera pulled out of her back pocket was insurmountable, at least, that was what the Saiyan Lieutenant herself believed. Which only made the sight of both Lettice and Cassava emerging from the large plume of smoke created by her combination all the more daunting.
"Impossible!"
She exclaimed, before her expression darkened into one of annoyance and anger. Why couldn't they just die? They had to persist, and continue to prolong the colonization of Vegeta.
Focus. Do not let them distract you. Focus, analyze, then dominate.
By the time Cassava appeared in front of Vera, poised to strike, Vera was poised to defend. As Cassava unveiled her hidden blades, Vera changed her style of movement, instead shifting her body so that every time she blocked or intercepted Cassava's attacks, the blades would strike mostly armor, each time the crackling electricity that formed her outer shell of armor would lash out to shock the Super Saiyan. However, Vera wasn't perfect, and soon she found Cassava's movements too quick to keep up with, and the woman was forced back, step by step, until Vera ultimately broke away, performing several backflips to gain distance between her and her enemy.
"Damn it...." Vera cursed aloud, as she began to focus Ki in the palm of her hand. If the last offensive didn't work out, then she merely had to go even harder. White, wispy Ki erupted in her right hand, the unstable energy lashing out at the Saiyan's immediate surroundings, right before Vera thrust her hand forward, releasing a powerful shockwave of energy, followed by the energy sphere itself as it blasted off to obliterate both Cassava and Lettice in one blow.
And, of course, she wasn't even close to being done yet. Opening her mouth, Vera made a deep guttural sound, followed by gagging, as if the woman was trying quite hard to vomit. Vera's entire body would shake and shutter as energy was rerouted to her gullet, and in one sudden jerk of motion, Vera would fire off a broad wave of yellow energy, which would tear across the lab as it sought to engulf both Lettice and Cassava.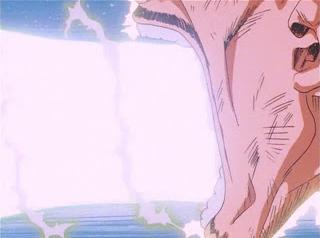 Word Count:
1024 |
Total Word Count:
16,188 |
Lettice
|
Cassava
|
Tora
LIEUTENANT VERA, THE WRATH OF THE DIVIDE


DEFENSIVE SUMMARY

Cass has Edge IV over Vera! Vera suffers 2 status dmg!
At-Will Reactive: Vera uses Aura Guard to negate status effects and critical bonus damage!
Bonus Action Reactive: Vera uses Deflect against Cassava's SA1 and SA2! Dmg halved!
-Cassava's Enemy Attack I hits Vera for 15 dmg! Critical Dmg negated to 10! Halved to 5! Reduced to 3 dmg with Indomitable + Battle Armor! Lightning Aura deals 1 direct dmg to Cassava! Resist deals 2 direct dmg to Cassava!
-Cassava's Enemy Attack II hits Vera for 25 dmg! Critical Dmg negated to 13! Halved to 6 dmg! Reduced to 4 dmg with Indomitable + Battle Armor! Lightning Aura deals 1 direct dmg to Cassava! Resist deals 2 direct dmg to Cassava!


OFFENSIVE SUMMARY

At-Will: Vera uses Sidekick Attack!
At-Will: Vera gains another Bonus Action!
At-Will: Vera uses Talented to refresh usage on Kiai!
Bonus Action: Vera uses Seeking!
Standard Action: Vera uses Break Cannon on group!
Standard Action: Vera uses Break Cannon on group!




---


At-Will: Protective Saiyan Armor (Aura Guard)- As an at-will action you are immune to non-special status effects and negate the damage bonus from critical hits during your turn. | -5 Ki

Bonus Action Reactive: Lightning Fast Reflexes (Deflect)- As a bonus action you negate half the damage from two attacks that hit you during your turn (even criticals.) | -10 Ki

At-Will: Talented- Gain another use of Kiai

At-Will: Bomber DX (Minion Attack)- 1d6+1 (Target: Cassava)

At-Will: Extra Action- Gains another Bonus Action

Bonus Action: Bomber DX (Seeking Redirect)- The turn after the attack misses its target you may spend a bonus action for a 75% chance to redirect it and one other Seeking attack back at the target. A redirected attack deals direct damage in value equal l to the highest natural die roll from its damage rolls.

Seeking Chance (75%)- 1d100 [Targets: Cassava, Lettice] Failure! (Someone help this poor girl pass her Seeking Rolls)


---


Standard Action: Break Cannon (Target: Cassava, Lettice)

Effects - Area Seeking
Ki Cost - 7 Ki
Acc - 1d100
Dmg - 2d8

Standard Action: Break Cannon (Target: Cassava, Lettice)

Effects - Area Seeking
Ki Cost - 7 Ki
Acc - 1d100
Dmg - 3d8

At-Will: Enhanced Brutality (Brutal)- As an at-will action you can add an extra damage die to one attack during your turn.


ACTIVE EFFECTS

Lightning Aura (1 turns remaining)
Enhanced Minion (Portal)- 2 turns remaining

FIGHTING STYLE

Brutal
Special Skill: As an at-will action you can add an extra damage die to one attack during your turn.

TRAITS

Resist- As a passive effect when hit with an attack you deal 3 direct damage for Super Attacks and 2 direct damage for Basic Attacks back at the attacker.
Indomitable - As a passive effect you negate 3 damage taken from every Super Attack and 1 damage from every Basic Attack that hits you.
Talented- As an at-will action choose one non-legendary Defense or Utility technique you've learned. You gain an extra use of the technique and it doesn't count against any other kinds of usage limits imposed upon it.
Extra Action- Boss can gain another Bonus Action (2 uses)

TRANSFORMATIONS

EQUIPMENT

-Battle Armor
-Saibamen Bottle
-Auxillary Core (0/1 use)
-Senzu Bean (1/1 use remaining)

OTHER ITEMS


SUPER ATTACKS

Break Cannon (Signature Rank III) - Area | Seeking


TECHS

-Sonic Sway III (1/1 Use Remaining)
-Aura Guard III (1/2 uses Remaining)
-Deflect III (1/2 uses remaining)
-Kiai III (1/1 use remaining)
-Lightning Aura (0/1 use remaining)


LEGENDARY




CURRENT PL: 80,000
HP: 82/100 | KI: 47/100 | DEF: 30 | DMG DIE: d8 | ACC: +0

1d100+45·5d12+20·5d12+20·1d6+1·1d100·1d100·2d8·1d100·3d8