Post by Deleted on Feb 8, 2019 19:05:02 GMT -5
CHARACTER BIO

NAME:
Brisk

RACE:
Frost Demon

AGE:
178 years old

GENDER:
Male

HEIGHT/WEIGHT:
5ft 6in. // 175 lbs.
APPEARANCE: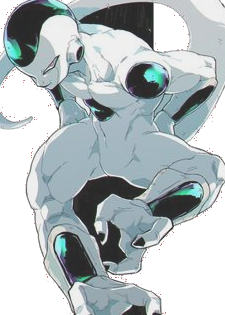 MOTIVATIONS:
Lord Frieza is the impossible standard upon which every future generation of Frost Demons are measured. As such, if one cannot obtain Frieza's level of power and influence, one is considered an outright failure and shame to his own race.

This is why Brisk shall become far stronger than Frieza ever could be.

For it is not galactic dominance that Brisk seeks—there are many powerful beings to terrorize the cosmos. Brisk seeks to aim just a little bit higher, to the very cosmic beings that govern the universe itself.

Brisk wants to become the first mortal being to ascend to godhood. To rule alongside the gods as a fierce deity. Only then will he turn his attention to ruling the known universe. Though, it doesn't stop him from sowing discord and destruction wherever he may.
QUIRKS:
One could hardly surmise where Brisk's true loyalties lie.

He can present himself an ally one moment, only to plunge the knife of treachery deep within the back of said ally, twisting it to ensure they will never oppose him and seek revenge. This isn't to say he cannot be trusted — only that, when advantageous to him, Brisk is quick to assume a role of dominance over others.

He is cunning, intelligent, and patient. He knows how to bide his time, working secretly behind the scenes in order to bring his ultimate plans to fruition. And should his plans go awry, he is not one to throw a tantrum about it. He simply returns to the drawing board to consider a different approach. In truth, Brisk is far more a thinker and philosopher than a warrior, yet his natural affinity for tactics and warfare make him a formidable fighter.

Despite his nature, Brisk is not cold-hearted. He has a soft spot for the outcast, the downtrodden, the underdog. He is not afraid to lend his aid to one in need. Should it suit his interest, of course, or if he believes he can later incur a favor.

Everything, his loyalty, his words of wisdom, his cooperation comes with a price, and he shall gladly determine its value.
BONDS:
There are but a few men under Brisk's employ. They are the only ones who command his time and respect, however minimal that might be. As their sole proprietor, they serve him faithfully, carrying out his orders and missions, masquerading as a band of roving pirates under his leadership.
BACKSTORY:
He was once a faithful soldier of the Frieza Force. Brisk and his platoon were often sent to the very edges of existence, scouting out potential planets to terraform and commandeer for the Planet Trade Organization.

Though he served for well over a century, it was easy for Brisk to begin to lose faith in the organization. More and more, though his squad was deployed purely for reconnaissance, they were being engaged on nearly all fronts by the Galactic Patrol. Before, Brisk and his squadron could deal with the Patrolmen with insufferable ease, but with the Galatic King's efforts to broadly recruit strong ki wielders, they became too strong to oppose alone.

It became riskier and riskier to be a soldier of the Frieza Force, and during one such operation when they were ambushed by thr Patrol, much to the shock and chagrin of his men, Brisk slew their platoon leader and assumed leadership of his squad.

In only a matter of minutes of being squad captain, Brisk attacked and killed every single soldier in his platoon and willingly surrendered himself over to the Galactic Patrolmen. Using his silver tongue, Brisk managed to convince them he been secretly contacting the Patrol in order to broker a deal by turning his squad mates in and offering crucial information.

In truth, there were secret liaisons, but the identity of the soldier who often gave the Patrol the whereabouts of his platoon remained a mystery. While it was not Brisk, he knew of the underhanded treachery, and took advantage of the situation. Thus, it was soon after he was released, with a bit of convincing and revealing the whereabouts of other secret squadrons, Brisk allowed to join the Galactic Patrol as an Ultramarine.

Fortune favors the bold.

As an Ultramarine, Brisk feigned pride and honor in service to his Emperor, Polaris. He had hitched his horse to the winning cart, and as the Empire grew in power and territory, so did Brisk rise in rank. He was soon assigned his own squadron of marines, given command of his own vessel, and cemented himself a noteworthy commodore of the Imperial Patrol's naval fleet.

Yet again, destiny would seek to deny him. The wars between the Empire and the Dominion grew heated. It was the decisive battle of Abbayor when Brisk's squadron was nearly decimated in their failed defense that he decided it was time to choose a new venture.

He abandoned the Empire, traveling to the furthest reaches of the universe to bide his time. It would not take long. Word soon spread on the Galactic Hypernet of the death of many prominent figures, including the Saiyan queen and the Emperor, himself. It left a power vacuum unlike never before as the remaining powers scrambled to grasp at chunks of Pol's dying empire.

Now was the time to rise. Now was the time to act.

With few other major forces remaining to oppose him, or even aware of him for that matter, Brisk can enact his final plan—to surpass even the mighty Frieza himself and secure himself a place among the mightiest of the universe—the very gods themselves.
CALL TO ACTION:
The fall of the Emperor removes any real threat to Brisk's plans, and thus, he can finally move to fill the gigantic void left behind by the deaths of so many leaders.
---
STARTING BUILD
Tenacious
SKILL POINTS:
FIGHTING (Accuracy): 15
ENERGY CONTROL (Damage): 30 (+5 racial)
REFLEXES (Defense): 0
RESILIENCE (HP): 10
TECHNIQUES:
After Image
Energy Shield
Super:
Immolation - Single, Charging, Burn
Equipment:
AI Assistant (Grit, Resolve, Endure)
---
MISC.
If using a face claim, what is their name/what anime are they from? OC Frieza from Pinterest
If possible, I'd like to start my 2nd slot over from scratch as a new character.