Post by Majin Ala on Jan 13, 2019 22:07:58 GMT -5
The Moon. Some 500 Years Ago...
Three figures stood atop the barren surface of the moon. Nothing for miles but endless grey rock and pot marked craters. It was a prison worse than death, worst than Hell. At least in hell you were tortured by devils. Here though, here there was nothing. Nothing but bleak and barren emptiness in all directions. They knew, they'd walked the entirety of the moon's surface. There wasn't even any cheese to make up for it, despite the stories and nursery rhymes the moon was made entirely of bland tasteless rocks. The damned Monkey Boy, Goku, had foiled the Rabbit Mob's schemes to get rich back on Earth. As penance for their crime's he'd imprisoned them on the moon with his magic staff, the Power Pole. In the process,
forcing them to make treats for children around the world.
It was a cruel fate, one only a
really
stupid child could have imagined for them.
And so, Monster Rabbit and his Rabbit Mob toiled on the Moon for months upon months working on their thankless task. They survived on nothing but carrots and carrot juice, willed into existence by Monster Rabbit's particular breed of magic. Even the giant rabbit himself soon grew sick of his favorite food, adding further insult to injury. How the three survived the moon's harsh conditions is anyones' guess. Did the Moon have a breathable atmosphere? Did Monster Carrot's magic subconsciously protect them from the rigors of space? Did Kami down below take pity on the three mortals cruelly imprisoned on the moon by an overly excitable child? No one knows, and ultimately it matters not. Because the Rabbit Mob was about to die.
Monster Carrot had decided enough was enough. No more making rice cakes, no more surviving on carrot juice. No more seeing if they could get their pee to escape the Moon's gravity as their only means of entertainment! Vengeance burned in the marshmallow and chocolate heart of the giant magic rabbit. He spent the last week hatching a scheme, a way to get revenge on the Monkey Boy and his friends for imprisoning him. Naturally, the Rabbit Mob had tried everything under the sun to escape the moon back to Earth. They tried building a catapult, only to discover the moon had no wood... except their tools of course. Then they tried carving a catapult
out of rocks
. Results were underwhelming, and painful too! Monster Rabbit tried using his strange magic to conjure anything that wasn't a damned carrot. But alas, he could not. And the three men remained trapped on their cheese-less prison, seemingly for all eternity.
So if Monster Carrot couldn't find a way back to Earth, he'd do the next best thing. Make someone who could! His ingenious plan began to unfold, the first step was producing an egg that would be his heir. Unfortunately for the magic rabbit, he couldn't simply spit up an egg like the Demon King Piccolo could. Producing his egg required a long trip to the restroom crater, extreme privacy, and quite a bit of groaning. One agonizing struggle later and Monster Carrot Jr. was born! Technically! His proud father held his slightly slimy egg up for his minions to behold, laughing to himself even though sound shouldn't travel through space. The egg itself was about as large as a cantaloupe, oval shaped, and for some odd reason had colorful bands and stripes along most of its length. Despite silly appearances, it radiated Carrot Sr.'s strange magic to the touch, clear proof of his offspring's future power.
"Behold men! My greatest creation!" The big rabbit exclaimed proudly, his ears perked straight up and a wide smile on his face.
"Its an egg, Boss?" His dark skinned soldier of vengeance inquired with a puzzled look.
"Is the magic egg gonna fly us home?" His lankier companion inquired, reaching up to try and grab the egg to inspect up close.
"Of course it's an egg you morons!"
Monster Carrot angrily replied, snatching his creation away from his minion's grubby mitts. "It's not flying us anywhere. We can't get off this stupid rock. But that's not going to stop me from getting my revenge!"
The magic mafioso looked down at his egg with a sinister gaze, patting it lovingly as he envisioned the destruction it would wrought. His son would surely be a hundred foot tall giant rabbit monster, that could breath fire and shoot lasers from his eyes. Or maybe a demon rabbit, with terrible black magic and a flaming sword that could cut through anything. Or a giant demon rabbit monster with a flaming laser sword he shot from his eyes! Wouldn't that be cool!?
"We may never get off this hellhole, but my son will. And he'll get revenge for us. I swear it, or my name ain't Monster Carrot!" The giant talking rabbit exclaimed, placing his egg in a goody basket along with the last batch of rice cakes he or his men were going to make ever again for those spoiled brats on earth. A wide grin still plastered on his face, Monster Carrot placed the basket lovingly in the firing arm of their failed stone catapult. It didn't have the power to send the three of them back to Earth, but for the egg it'd be no problem. "Now get over here and help me fire this crazy contraption!" Carrot barked to his men as he began pushing the catapult into position.
"Right away boss!" His two oafish mooks replied, running up to help their leader.
After a few minutes of fumbling with the controls, the catapult was ready. "Give 'em Hell for me Carrot Jr!" Monster Carrot declared as he released the firing lever and the catapult sent his gift basket of doom hurtling into the air. He and his men watched with eager anticipation as it soared high into the sky. They held their breath, expecting it to slowly descend back to the moon, but to their amazement it continued soaring on towards the earth. The gift basket, rice cakes, egg, and all would soon be entering Earth' atmosphere as a burning meteor of carrot themed vengeance. How it did not burn up on reentry? No one knows! Clearly, Monster Carrot was one heck of a basket weaver.
"It's done..." Carrot Sr. declared triumphantly, the sun reflecting in his shades.
"So what now boss?" One of his goons asked innocently, expecting a lump on the skull in reply.
"We wait." Monster Carrot said simply, slumping down to sit on a rock. "My son will hatch, grow to be a mighty warrior, and kill the Monkey Boy. Once that's done he'll surely take over the Earth, and remembering his dear Papa he'll find a way to bring us home."
"Wow that's a pretty good plan boss." His lankier goon replied.
"I know it is, that's why I am the boss, nitwit." Carrot said curtly, folding his arms.
Little did Monster Carrot know, far away events were unfolding far beyond his control. The World 21st Martial Arts Tournament was well under way, and Goku was rampaging about the stadium as a Great Ape! Master Roshi, in a desperate bid to stop the beast's rampage once and for all, fired his MAX! Power Kamehameha Wave at the Moon. Intent to destroy it, and prevent the destructive transformation in his student, the Turtle Hermit's mighty energy blast rocketed towards the heavens in a brilliant blue beam of energy.
"Wow." The darker skinned Rabbit Mobster replied. "Boss your plan sure is working fast, look they're already sending us a rocket ship!" He eagerly pointed to a bright white flash of light soaring towards them.
"Hehay look at that! I should never have doubted you boss." Said his companion, slapping his knee at how foolproof their plan had been.
Monster Carrot stood up, something didn't feel right. He took up, looking at the blinding flash as it drew ever closer. "I'm good boys, but I'm not
that
good." He exclaimed, adjusting his sunglasses as he peered at the bright blue light.
"WAIT A SECOND!"
Monster Carrot screamed at the top of his lungs.
"THAT AIN'T NO ROCKET SHIP!"
He had just enough time to shout his final words, throwing up his arms in panic as terror washed over him. His slow witted companions barely processed the sentence, before the Kamehameha smashed into the Moon and destroyed it in a massive explosion that lit up the night's sky. And just like that, the terror of Monster Carrot was gone for good. Mostly...
---
Unbeknownst to anyone but the reader, Carrot Jr.'s egg continued to hurtle unblemished towards the Earth. It crash landed in a small forest outside
Orange City
, future home of Earth's Greatest Hero, Mr. Satan Hercule himself. The gift basket was found by a small child out for a hike with his siblings, and the children quickly devoured the basket's collection of snacks without so much as a second thought. The egg however, proved durable. More durable than the rocks they pelted it with or the logs they tried smashing it on. Deciding, correctly, that it was clearly magical they took the egg back home with them to show their parents. As expected, the children's mother thought the egg was the result of an arts and crafts project, and an overactive imagination. She thanked her children for the gift, took the egg, and stored it away in a dark corner of their attic. Where it remained forgotten for
five hundred years!
Now in the present day, Carrot Jr.'s magic egg was accidentally discovered by a small child exploring his grandmother's attic with his best friend. They found the funny colored egg in a chest of their great-great-many more great's-Grandfather's things. Thinking it the coolest thing since sliced bread, they rushed downstairs to show it to their parents. However, children are clumsy, especially when excited. And as expected the young boy tripped over his own feet when he entered the kitchen, sending the egg flying through the air. It landed, rather conveniently no less, in a large punch bowl filled with carrot juice. The result of some strange vegetarian health diet the boy's mother and her book club were part of, the carrot juice in the bowl was conveniently the perfect thing to awaken the long dormant rabbit magic within Carrot Jr.'s egg.
The egg cracked open, small fluffy white fists punching through the colorful shell as it burst around it. The boys shook with fear, their mother shrieked, and soon the head of the terrible monster emerged. Fluffy, white, and for some reason already wearing a large pair of black sunglasses, Monster Carrot Junior was finally born! The rabbit creature kicked his feet out the bottom of his egg, wearing it like a colorful suit of armor around his torso, and hopped down from the table. Despite attempts to catch him, Carrot Jr. bounded off out the door and into the family's garden. There he grabbed a quick armful of carrots and fled off into the woods, never to be seen again.
Because Carrot Jr. is a very
cunning
rabbit. Imbued with his father's memories, the magic rabbit knew well of his dark purpose. He spent the next few weeks in secrecy, living in the woods and sneaking into the city in the dead of night to steal as many carrots or carrot based products as he could manage. He grew quickly, empowered by Beta-carotene found in his preferred food source. During the day he trained in the woods, wearing stolen clothing in the eccentric style of his father and honing both his martial arts and his carrot magics. Junior would not make the same mistakes his father had. He'd hone his body and his mind, becoming the warrior his father had never been. Mastering carrot magics his father could only dream of. Turning pesky hikers into carrots to keep his secret safe!
---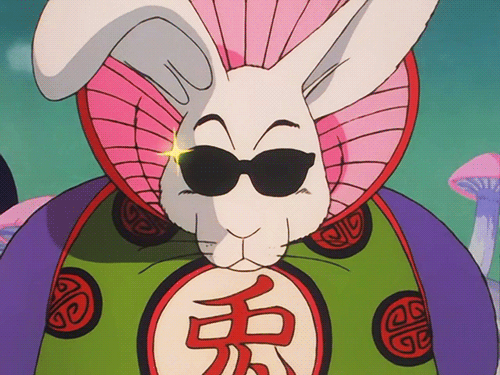 Eventually, Carrot Junior was ready. He wasted no time in beginning his father's grand scheme of vengeance. Carrot Jr.'s memories were a bit hazy, having been passed down through an egg his father passed, but he distinctly remembered his father having a vast army of powerful and loyal soldiers. Junior would need his own, to be his eyes and ears and to aid him in battle. He blended in with Earthling society, collecting information about Satan City and its seedy criminal underbelly. Eventually he came into contact with a man named Bills Capone, the most notorious crime boss in all Satan City. The man was a ruthless mobster with an attitude that more than made up for his short stature.
Bills had been weary of his 'Carrot Jr.' and initially threatened to gun him down for wasting his time with his fanciful claims. When Carrot proceeded to turn two of his armed thugs into carrots and swiftly devour them, Capone quickly changed his tune. Pledging allegiance to his magic overlord, Bills Capone was promised zeni, women, and power beyond his dreams in exchange for his services. In turn, Bills offered Carrot Jr. his full cooperation, and the use of his vast crime syndicate to aid in his nefarious goals. Carrot Junior now found himself in possession of a well armed, well funded, highly coordinated legion of thugs and goons he lovingly dubbed the Rabbit Militia. The RM as they called themselves, were more than happy to have a magical carrot man backing them up. Though they were less than thrilled with his demands they wear bunny ear headbands at all times.
The forces of Carrot Junior thus wasted no time in commencing the next phase of his master plan. In a brilliant move unseen before, the Rabbit Militia took Satan City by storm. Communication lines were cut, signals jammed, and military armories were raided with overwhelming force. Any Earth military vehicles were quickly commandeered, and turn upon the Satan City police forces. The police fought bravely, but lacking Bills Capone's illegal alien armaments, or the looted weaponry of the military, were powerless against the might of the Rabbit Militia. Carrot Jr. and his new right hand man made their way for the Mayor's office, taking city hall by storm and holding the mayor himself at magical gunpoint. Forced against his will to hand over the very literal key to the city, the Mayor was imprisoned and Monster Carrot Junior crowned his fledgling empire Carrot Kingdom. And naturally himself, King Rabbit. Bills Capone was in turn christened 'High Major Commodore of the First Legion Third Multiplication Double Admiral Artillery Vanguard Company,' a title of his own creation.
---
Enter our heroes...
Rabbit Militiamen patrol the streets of Satan City in armed squads, looting and stealing as they see fit. Citizens are barricading their homes, grabbing whatever weapons they can find to try and protect themselves from the 'King's' criminal army. Thugs, vandals, and hoodlums are recruited en masse, swelling the ranks of the King Rabbit's personal army even further. It is a dark day for Satan City, and many look to the stature of Earth's great hero Hercule Satan for guidance. They hope a similar, mustached warrior with an afro will emerge to slay the monster and liberate their fair city.
Across the city though, a resistance movement quickly emerges. Police Chief Furry, along with elements of both the Satan City Police, Earth Royal Military, and even Imperial Patrol caught within the city before the communication's blackout go underground. Literally, setting up a command center in the old underground subway station, using the trains as their only quick means of moving around the city. They send scouts and rangers to do what they can to protect the innocent, while looking for any able bodied men and women to assist in their efforts to liberate their home. The chief himself issues a broadcast, using what's left of the city's public access television stations to send a desperate message to any who are listening.
"This is Chief Furry of the Satan City Police to the people of our fair city. A monster lords over us, his thugs comb the streets, but hope is not lost. We'll keep fighting to stop him, or die trying. Someone will rescue us, either the Z-Force, or King Xell, or even the damned Kabochans. Help will come, but in the meantime we are on our own. I beg the aid of any able bodied fighters. Anyone with military or law enforcement experience, anyone with training in martial arts, and if we could be so lucky, anyone with knowledge of ki or magic. Please, seek out my men, state your desire to help and they will lead you back to our secret base. Be safe out there citizens, Carrot Junior will be stopped. Until then, Police Chief Furry signing out."
The communication was broadcast across the entire city, in every television and on every radio that could still pick up the signal. It even displayed in Carrot Jr.'s stately new office, though he dismissed it and angrily informed his men to fan out and comb the city better. He wanted those do-gooders brought to him in chains, so he could make an example of them. Meanwhile, in the Police Chief's secret base able bodied fighters were slowly trickling in. Most young and inexperienced, with strong senses of justice and little real combat training. A few were ex-military or lowly martial artists, but what Furry truly needed was a miracle. He needed a team...
---
Word Count: 2,945 | OOC: Feel free to make your introductions or find your way to the chief's base. |
Battery Boy
,
Niha
,
Yoroshu
,
Arashi