Post by Legume on Mar 29, 2019 13:00:30 GMT -5
It all started out so well.
Thast was the first to make a choice, using the guidance of his powers to find an alternate path inside. Soon, his Yin would find an small opening in one of the walls a couple dozen meters to the left from the front door, which, after some rubble and moss, would lead to a short and straight tunnel leading straight to the main entrance on the other side. It had been one of the tunnels left by the original builders of the tomb to get around the front door, and now it served to lead one of the tomb raiders inside. Alexis considered following right after the Earthling - after all, her body was small and nimble enough to pass through the tunnel without a problem.
And then, Tora chose to target the panel installed next to the door to try to open it. He's a martial artist, though, right? Not a some sort of hacker extraordinaire who might be able to get them to pass through? What's he going to do, then? Why does he need to have Khoshai to look away?
And then Tora began urinating on the security system.
Urinating on the security system.
You...
And the worst thing is - it somehow worked. The wiring and electronics composing the system must be hundreds of years old at this point - urine trickling down through the machinery must have been the last straw which got to to break completely. Several sparks of electricity flew out of the panel, followed by a buzzing sound and a few puffs of smoke - and Ala confirmed its success by seeping underneath the door and seeing it open from the other side.
"
Ooookay...
" Alexis muttered, still in relative disbelief, as she stood next to Khoshai and watched with a face that just screamed a mix of surprise and disgust. One of her dolls transformed their spear into a fan and waved it wildly to drive away the building up stench of urine. "
That was... an unconventional method, but whatever works, I suppose.
"
Walking forward, Alexis was soon met with Thast, who had snuck inside a few moments before everyone else by taking an alternate path. "
Oh hiya, Thast! Tora got us through the door... in a pretty stinky way, I ain't gonna lie.
"
What stood before them on the other side of the door was a long and wide hallway, with a staircase leading downwards somewhere in there - however, the light from outside did not seep far into the tomb. Everything more than a couple meters away from the entrance was shrouded in eternal darkness. Not a problem for someone like Alexis, however.
The blonde girl reached out to the side, several magical drawings appearing in the air before a small portal popped down in their place, which she stuck her arm into and began rummaging inside. "
Mhm... Mhm... Ahah!
" Alexis pulled out a long wooden torch and snapped her fingers, an intense blue light bursting to life at the tip, illuminating the hallway before her. The portal soon closed and vanished entirely - it was quite a risky technique to activate, she wouldn't lie, even if not for reasons which one might immediately guess.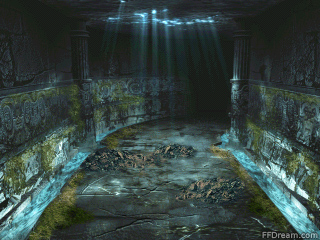 The walls of the corridor and the staircase which followed it were covered in murals and frescos, and they all had a story to tell. Surprisingly well preserved for artwork which was hundreds of years old at this point - perhaps because of a lack of human contact in all of those centuries - they weaved a tale of not only the life of Prince Vegeta, but the timeline of the era of Z-Fighters themselves. Starting from the ten year long Saiyan-Tuffle War, to two Saiyan children, destined to become the most powerful warriors in the multiverse, escaping the destruction of their home planet, Planet Vegeta, and finally detailing all the hurdles and challenges they had to face towards that goal. On Earth, across the Galaxy, the Universe, and finally beyond the universal barrier to challenge the most powerful beings in the Multiverse in the event known as the Tournament of Power.
For a historian, archeologist or simply someone interested in the history of the Z-Fighters, this might be a dream come true - the people who drew these murals had witnessed those events first hand and provided details which had long since been lost to time. Names, locations, adversaries, all once forgotten, but now receiving a chance to be revived yet again.
Alexis, however, did not pay much mind to the murals, aside from the occasional glance. Not that she did not have an artistic eye or anything, far from it - she was, simply put, already familiar with the story and did not need a refresher. Plus, the line of murals was
really
long. Almost a hundred meters and two floors deep into the tomb, and the frescos were still ongoing, depicting a Prince Vegeta and an another Saiyan using the Potara Earrings to fuse against a peculiar Majin, so on and so forth...
How long is this story?!
Eventually, however, it did reach an end - if it did not have an end and continued on forever, they wouldn't be here robbing Vegeta's grave in the first place! - at which point, the relatively linear path suddenly branched into two halves. Alexis's map did not have any information on this place and what either side would lead them towards, they pretty much had to take a wild guess.
Well, an almost wild guess.
The
left path
appeared to have a faint glow at the very end, and anyone who could feel ki energy would instantly tell that something uncomfortable was taking place. The energies there would feel shifted, distorted. Something was taking place out there.
The
right path
appeared as dark as the rest of the entire structure, but instead of a light, it seemed to have unfamiliar sounds coming from deep within the corridor. Something resemling buzzing saws and moving machinery. Something was taking place out there, too...
Alexis turned around towards the group and spoke:
"
Whatcha think? Got an idea on which path we should take?
"
(1030 words, total 4370)
You are faced with a branching corridor, both the left and the right path seemingly leading somewhere. The decision needed to make is which path the group should take.

It would be preferable if the whole team went down a single path, although if one of you is feeling rebellious, I am not going to stop you.
Doctor Kaijin Vex
Thast Rowens
Tora
Majin Ala