Post by Hyperion on Mar 7, 2019 15:23:20 GMT -5
CHARACTER BIO
NAME:
Hyperion
RACE:
Shinjin
APPARENT AGE:
19
GENDER:
Male
HEIGHT/WEIGHT:
5'9" // 150 lbs
APPEARANCE:
"I am a Kaiōshin my job is to maintain balance" ~Hyperion.
DESCRIPTION:
Hyperion assumes the form of young nineteen year old male that stands roughly around 5'9 in height and weighs in at . one hundred and fifty pounds. The most prominent features upon the body of the young kaioshin are six magatama designs tattooed on his collarbones that resemble a necklace. He has a mop of snowy white shaggy hair atop his head , and the porcelain skin tone to compliment it. Despite being a male he has very soft facial features which could misguide someone about his gender should dress in drag.

MOTIVATIONS:
Hyperion is driven by the idea that he must fulfill his duty as a shinjin less the universe fall into chaos. He hopes for a universe one day united under one banner but that is simply a fools dream and he knows it. He wishes to be acknowledged by the other gods for his deeds maybe even one day being selected for a higher calling.

QUIRKS:
Hyperion is a philosopher at heart never really taking things for what they truly are , analyzing things down to their cores and then weaving a poetic psalm. He is known to be extremely Ambitious when he needs to complete a goal one should truly question just how far this shinjin would go to achieve his goals. He is also stern with everyone he comes across that is breaking a divine law but seeing as that rarely happens most will only meet his kind and gentle side as he has affection towards all forms of life great and small. He is also an adamant seeker of knowledge as he has always been a scholar he wouldn't mind pocketing some historic piece of history just so he can keep the knowledge to himself.
BONDS:
It's a very sad turn of events to say hyperion doesn't truly have any bonds with anyone as he spent most of his time secluded amongst his books , and never stays in one place long enough to build a connection. A negative bond i guess one could say if it is one is with the planet trade organization,he'd watched them ravage worlds but as they were like a slow moving cancer as long as he made more planets than they took they didn't upset the balance.
BACKSTORY:
Born of the old holy fruit of the shinjin tree from the eighteenth universe , having bloomed from the golden fruit of the tree he was destined to become a Kaiōshin. Hyperion would spend most of his time training alongside kai's in other-world. Despite being a playful and carefree spirit Hyperion craved desperately to do as the other kais did and that was to create. This would make Hyperion into a very strong minded scholar as he grew in age through the passage of time , so devoted to his studies he neglected his duties to the worlds and universe around him. The more he grew in knowledge the more he began to slack in actual combat training one growing exponentially , while the other would suffer greatly.
Eventually the number of kai's would begin to dwindle further and further the tree of golden apples birthing less supreme kai's , till eventually it seemed as if the tree had come to a complete and total standstill. Being one of the few kai's left that hadn't died in combat or simply faded from old age , Hyperion was forced to start taking his duty seriously. At first it was rather easy as he knew kai's where in fact guardians of the universe and as gods of creation needed to provided to catalyst for life and planets to be born, as opposed to the Gods of Destruction who destroy life and planets, which maintains the balance of the universe. Everything was smooth sailing for the most part that was until he began to actually see the reality of what was happening in the universe , war , death , sickness ,famine , planet purging and space tyrants! What he saw threw him into a spiral of emotions he tried desperately to fix what he saw happening around him but the universe is just to large for him to handle on his own.
Hyperion would go into isolation on a inhospitable wasteland of a planet mulling over all the evil's in the vast universe around him , reviewing the history of it all over and over in his mind. Hyperion began to notice a recurring pattern with how the kai's dealt with such evil's , they simply brushed these things to the side only dealing with issues that could truly threaten the cosmos's. But the world around him was no longer the world his predecessor's once lived in , the planet trade organization is running strong , the saiyans have returned , and the tuffles are revived. For all Hyperion's knowledge he knows he is far lacking in strength and there are greater horror's lurking out there dormant beyond the stars. A kai can create but weather that life becomes good or evil is up to fate , all hyperion knew now was he was one of the few kai's this universe had left and he needed to become stronger to serve them well.
CALL TO ACTION:
Hyperion has recently become voraciously active due to the recent spike of activity in the cosmo's with the saiyan's return and the encroaching return of the planet trade organization. Along with all this it seems some of the ancient evils of universe deep within space on the cusp on the universe are beginning to awaken.
_________________________________________________________________________
CHARACTER BUILD
LINK TO V1 CHARACTER SHEET
:
docs.google.com/spreadsheets/d/1pFbNwSgxsEMtgYj6vqgO2pK3KfdECNHjKFqOISHfamo/edit#gid=2119114505

FIGHTING STYLE
: RESERVED
V1 - MP REFUNDED:

Refunded 2 MPV2 BUY MASTERIES:

Potential -1

MP LEFTOVER:

1Potential: lvl 1Ability: lvl 0Technique: lvl 0Focus: lvl 0DISTRIBUTE SKILL POINTS:Fighting: 20Energy Control:15 (+5 to Energy Contro to Shinjin race) = 20Reflexes:0Resilience: 20PICK TRAITS:
N/A
PICK TRANSFORMATION PERKS:


N/A
CREATE SUPER ATTACKS: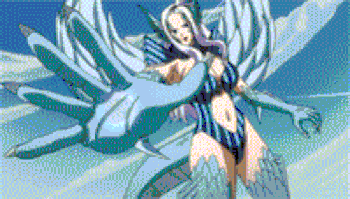 NAME: Cosmic Light
Description: Hyperion points his hand twoard the direction of his combatant before gathering his ki and and simply firing off on few occasion's his targets have been bedazzled by his cosmic light , as this move was designed in a way daze opponets as the beam sped twoard them
Type. Single
Activate. Attacks always require a standard action.
Base Damage. Rolls 2 D8 dice.
Major Effect. CHARGING. You roll two sets of damage dice with this attack and take the better set.
Minor Effect. IMMOBILIZE. 50% chance to Immobilize target.
Cost. Ki Costs. 15 ki at Rank 1, 10 ki at Rank 2, and 5 ki at Rank 3.




PICK TECHNIQUES:

SONIC SWAY
You rely on pure fighting instinct to help you bob and weave through your opponent's attacks.
Type. Defense
Action. Bonus Action - Reactive
Effect. As a bonus action you avoid damage from all damage dice that roll a natural 8 or lower during your turn. If you take zero damage from an attack this way, it counts as fully avoided. Considered a Movement technique.
Cost. 15 ki
Limit. Once per battle.
Ranks. Rank 2 tech costs 10 ki. Rank 3 tech costs 5 ki.
ENERGY CONSTRUCTS
You form weapons or constructs of crystallized ki energy that help you fight in various ways.
Type. Utility
Activate. Bonus Action to create constructs. At-will to use them.
Effect. As a bonus action you create 4 energy constructs. As an at-will action you can activate number of constructs to add one d6 as a bonus damage die to assigned Basic Attacks during your turn. Alternatively, as a reactive at-will action you can sacrifice constructs to negate damage from attacks that hit you during your turn. Each construct spent on an individual attack negates 3 damage, to a max of 12.
Cost. 10 ki
Limit. Once per battle.
Ranks. Rank 2 you create 6 construct. Rank 3 you create 8 constructs.
RANK SUPER ATTACKS/TECHNIQUES:
N/A
V1 to V2 Items:
Refunding Battle Stim for 10k Zeni
Refunding Steel Sword for 10k Zeni
STARTING V2 ZENI: 10k + 10k+ and the additional character return 10k= 30kBUY AND EQUIP:
KAI WEIGHTS
These wrist and ankle weights are enchanted with magic that makes them impossibly heavy, even for a great warrior.
Cost. 20,000 zeni
Slot. Accessory
Activate. None (Passive)
Effect. As a passive effect gives 25 extra PL per post or 200 words in adventures. You also gain an extra 200 PL when using MP to train.
Uses. Indefinite.
V2 - ZENI REMAINING:
10k of v2 zeni remaining