Post by Lute on Oct 1, 2017 10:07:01 GMT -5
TECH TECH
World Type:
Continental
Climate:
Toxic
Inhabited:
Yes
Brief History:
Much of the planet's surface is polluted due to over industrialization in earlier eras. This has forced Tech Tech's inhabitants to live inside of enclosed areas and grow their food through hydroponics and greenhouses. These places are known as Bio-Domes, and there are over a dozen of them across the the planet. There also is a rumored a location called Guruguru Island that is said to be completely free of pollution. However it is guarded by powerful warriors that defend the island from exploitation of the industrialists.
Tech Tech recently was invovled in a skirmish between the Imperial Patrol and actors from the Saiyan Dominion. The Dominion was publicized to have started this fight on neutral ground. Much of Bio Dome Seven Alpha was destroyed in the wake of the events. This had led the Tech Tech, under the command of their leader Chief Citizen Crisp, to join the Galactic Empire.
Native Species:
TECH TECH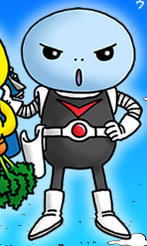 Average height:
3-4 feet
Average weight:
90-120lbs
Average power level:
150
Technological level:
Post-Space Age
Faction allegiance:
Independant
Strongest living member:
Unknown
Brief history:
The Tech Tech are a diminutive species who makes up for their small stature in intellect and creative genius. They are natural scientists and have a tendency to get obsessive over progress. They are renowned mechanics and engineers hired out all over the galaxy. Yet, this nature led them to make reckless decisions during their past and from it they almost ruined their world. In modern times there are cult-like sects of Tech Tech citizens who attempt to live their lives in quiet observation and wish to achieve harmony with nature once again, restoring their planet.
Faction Allegiance:
Galactic Empire (recently joined)
Current Status:
War Torn