Post by Thundos on Dec 1, 2018 9:54:48 GMT -5
CHARACTER BIO
NAME:
Thundos
RACE:
Earthling
AGE:
19 Years
GENDER:
Male
HEIGHT/WEIGHT:
5'11" / 150 Ibs
APPEARANCE:
Thundos has auburn colored hair. Usually he styles the medium length hair back. His body is quite muscular and athletic, steeled from his training over the years, especially the harsh one he did, before venturing out.
His style of clothing range from training suits to his favorite. A blue jeans with green legging like over layer out of leather with orange symbols on the site. He wears a green belt and two orange stripes around his left leg. This also includes a green vest. Concluded with orange gloves with free finger tips. As accessory he choose a metal collar with a pendant and aviator goggles with orange glasses. On his feet he wears cowboy boots even with spurs.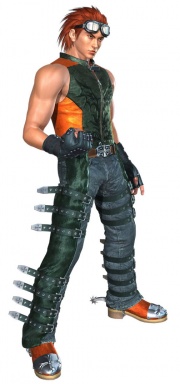 MOTIVATIONS:
His first goal is to be stronger then he was back in the days. He lost people that were precious to him and he want to be strong enough to fight anyone and never lose anything again. He also just loves a good and fair battle with a strong opponent and proof himself with it.
His second goal is to reestablish his family martial arts and prove its worth. For that he strives to honed his skills and build himself a dojo.
He also wants to find the sword that was passed down in the family for generations, that is what he actually wants to get back before anything else, as it holds precious memories of his father.
QUIRKS:
Thundos has a strong believe in his own abilities and won't waver against a great thread, or strong opponent. But don't think that his confidence would get in the way, he knows if he is outmatched, most of the times at least.
His best physical traits are his speed and maneuverability, which he honed over the years to become quite fast and agile. That helps him dodging attacks, while still being able to counter attack and everything with a high speed.
He also possess a analytical mind and is quite smart. Most of that is distributed to battle, but even outside he is at least smarter than the common guy.
BONDS:
Coff:
Coff lives with his family in South City here he possess a large house with his dojo in it. Coff and his father were good friends. A few years before the attack on West City by the now disbanded Frieza Force he moved to South City and bought a large house where he could host a small dojo. He and Thundos do sparring matches from time to time, with Coff mostly winning them in the past.
Sida:
She is the oldest of the two daughters of Coff. Thundos and Sida know each other since they were little kids and used to hang out with each other and some other friends almost everyday. It stopped after they moved. Sida in the meantime learned martial arts from her father.
Juce:
The younger daughter of Coff. She is an energetic young girl that is interested in martial arts, but with her more volatile mind, she tend to start try many things out, that is why she isn't particular good at any of it, but tries to become better at anything she does.
BACKSTORY:
Thundos was born in the West City on earth. His father was the rightful and solely successor of the family martial arts, called Sakei. He was raised peacefully, but still learned to fight. His life went on pretty normal. He participated in school and even had some friend. Even if he trained he wasn't to determined about martial arts, rather lived happily with family and friends.
Life went on for him until a faithful day. On that day Frieza Force attacked. He somehow made it out there alive, before the city was highly damaged. Unfortunately Thundos got separated from his parents. Until everything was over he didn't know what happened to them. But they died. That left him only with his grandparents. He changed, didn't want to loose anything anymore. So from now on he used all his energy to become stronger. The decision from this was to travel the world and maybe the universe to become the strongest man around, fighting the strongest opponent and defeat them. But in the years after this changed again, now he wants to find his families sword and build his own dojo, while doing so he stayed at Coffs Mansion, where he trained and gathered information about the whereabout of his heritage.
CALL TO ACTION:
---
CHARACTER BUILD
LINK TO V1 CHARACTER SHEET:
link
FIGHTING STYLE:
Analytical
V1 - MP REFUNDED:
41
V2 BUY MASTERIES:
Potential: 8
Ability: 1
Technique:
DISTRIBUTE SKILL POINTS:
Fighting: 25
Energy Control: 25
Reflexes: 50
Resilience: 0
PICK TRAITS:
Blur
PICK TRANSFORMATION PERKS:
None Yet
CREATE SUPER ATTACKS:
Flashing Bolt
Holding both palms near each other something like lightning charges between them, creating a ball of energy. It is then fired at the opponent. The attack travels quite fast with the power to pierce through the opponent defense and do to the lightning stun them.
Type. Single
Activate. Attacks always require a standard action.
Base Damage. Roll 2 dice
Major Effect. Piercing
Minor Effect. Stunning
Cost. 15 ki

PICK TECHNIQUES:
Sonic Sway
After Image
RANK SUPER ATTACKS/TECHNIQUES:
-
V1 - ZENI GAINED:
70000
BASES/FACILITIES RETAINED:
-
DRAGONBALLS RETAINED:
-
ARTIFACT RETAINED:
-
BUY AND EQUIP:
Gourd of Mist -15000 Equipped to Gear 1
Weighted Clothes -30000 Equipped to Outfit
Obi -20000 Equipped to Accessory
V2 - MP REMAINING:
1
V2 - ZENI REMAINING:
20000