Post by The Heretic on Mar 26, 2019 11:57:12 GMT -5
CHARACTER BIO
NAME:
Red Herring, a.k.a. "The Heretic"
RACE:

Bio-Android
DB RP wish: Self-sustains via her own magic instead of divinity, becoming a unique abomination. Shinjin with divinity removed.

+10 Resilience
AGE:
420,000,0069 years old
GENDER:
Female
HEIGHT/WEIGHT:
1 m/45 kg - 1,85 m/85kg
APPEARANCE:
Child (conserving power):

Adult (true form):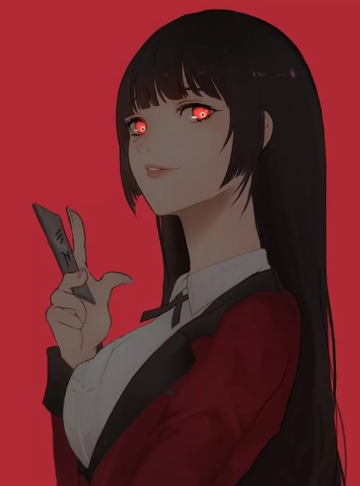 MOTIVATIONS:
- To destroy the linearity of time and the shackles of logic so that all beings can have what she deems true 'free will'.

QUIRKS:
- Her body is an empty Shinjin husk that solely continues existing by virtue of her own self-earned power. Sufficiently perceptive beings could sense her as something like an 'empty' Shinjin, with a void where their divinity was supposed to be.

BONDS:

- Despite not being a true Shinjin anymore, she still harbors a lot of affection for her former Shinjin family.
- Baitbaiter: Her hookblade, crafted by reforging her former Shinjin staff (she was ofended that her Shinjin staff was straight, just like time was, so she bent it, turning it into a hook.).

BACKSTORY:
Red Herring was formerly a Shinjin of Time under the name of Jamara, but she grew weary of her job and the monotony and determinism of time and the laws of logic. It caused her great discomfort how the future seemed to be predetermined, as if there was no true free will, as if what was called "free will" was just an illusion caused by being ignorant to the true works behind the scenes, and it was precisely her who was behind those scenes. She was stuck in between not wanting to be neither a Shinjin to continue the travesty that time is and find true free will, nor a Demon because these desires weren't selfish. However, she believed she had found a way to break this horrible path - the Dragon Ball wishes.

After spending years collecting them, via Porunga, Shinjin Jamara made a wish: to break her link with the divine.

Porunga did so, merely severing her divinity - and Jamara continued to exist by virtue of her own personal power and not as an extension of the divine Golden Fruit from the which she had been birthed from. Thus, Jamara became an entirely unique being. One that wasn't a Shinjin anymore in the true sense, yet had still similar powers of one - the ones she has earned entirely on her own accord, without any 'freebies' for being godly. Her initial condition was unstable though, being not truly dead not alive, having lost the very essence that makes a Shinjin a Shinjin - their divinity.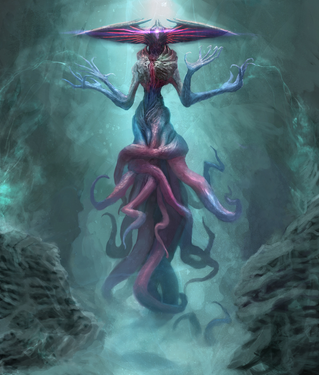 However, she still had her own magic, arts and knowledge which she had learned on her own; which she used to stabilize herself and restore to herself her old body, but this time, birthed from her own abilities, not the Fruit.
Now, free of her responsibilities and ties to the divine, she left Heaven.

This caused an awkward situation among the Kais. While she was clearly heretical, they wanted to banish her to Hell, but after assessing her heart, they found that they actually rightfully couldn't, because her intentions were selfless and generous. Then they tried to recall her back up to Heaven, but given how she was no longer a godly being, no longer an actual Shinjin, their divine laws and commands no longer had any bearing on her. Now that she was no longer who she used to, her godly core having been torn out of her, Jamara took on a new name: Red Herring, as she appears to be a Shinjin but isn't.

Free of the shackles of being a Shinjin, Jamara was able to use her already-learned magic abilities to modify herself, granting herself magical protections and abilities to survive in the mortal world, which was the only place left she had to go. And from here, she would go on her personal crusade against the cruelty of time and determinism, so that all creatures and beings can be "truly free".
CALL TO ACTION:
Personal agenda against the structure of the universe.
---
CHARACTER BUILD
LINK TO V1 CHARACTER SHEET:
docs.google.com/spreadsheets/d/1d2rGoE260MXA5QV25KKpjIORqPUFZS12yKpBLV2IvtA/edit#gid=1413931555
FIGHTING STYLE:
RESERVED
V1 - MP REFUNDED:
121 + 9 MP = 130 MP total
V2 BUY MASTERIES:
Potential: Level 8, 36 MP
Ability: Level 5, 40 MP
Technique: Level 3, 18 MP
DISTRIBUTE SKILL POINTS:
Fighting: 0
Energy Control: 0
Reflexes: 50
Resilience: 40
PICK TRAITS:
- CLEVERNESS
- ENDURE
- INDOMITABLE

- VITRIOL

- BLUR

PICK TRANSFORMATION PERKS:
None
CREATE SUPER ATTACKS:
None
PICK TECHNIQUES:
- DEFLECT
- PARALYZE
- CLASH

- DRUNKEN FIST
- FIRE BREATH

- SOLAR FLARE
- DEAD ZONE (Secrets)

RANK SUPER ATTACKS/TECHNIQUES:
(Dojo applied)

DRUNKEN FIST 1->2, 2->3: 2 MP
SOLAR FLARE 1->2, 2->3: 2 MP
PARALYZE 1->2, 2->3: 2 MP
DEFLECT 1->2, 2->3: 2 MP
CLASH 1->2, 2->3: 2 MP
FIRE BREATH 1->2, 2->3: 2 MP
V1 - ZENI GAINED:
Name - Amount - Worth per Amount - Total
Mythics - 7 - 30,000 - 210,000
Rares - 7 - 20,000 - 140,000
Commons - 8 - 10,000 - 80,000
Shards - 21 - 2,500 - 52,500
Raw Mats - 4 - 2,500 - 10,000
Starting - 1 - 20,000 - 20,000

Total: 512500

BASES/FACILITIES RETAINED:
Freighter
Fortress
Mining Drones
Dragonball Radar
Portal

DRAGONBALLS RETAINED:
SECRETS WISH

ARTIFACT RETAINED:
None

BUY AND EQUIP:
CONVOY - 35,000
WAR CRUISER - 54,000

DOJO - 36,000
MAGIC VAULT - 31,500

Equip:

SAGE ROBES - 27,000

SAIBAMAN BOTTLE - 18,000

DESTRON GAS - 13,500
VIRUS - 9,000

Inventory:

DEMON RING - 9,000
INCENDIARY BOMB - 9,000

SENZU BEAN - 13,500
TRINKET - 13,500
GOURD OF MIST - 13,500
FLASH BOMB - 9,000
WEIGHTED CLOTHING - 27,000
POISON NEEDLE - 9,000
TOTEM - 13,500
CURSED TOME - 9,000

SHIELD GENERATOR - 18,000
AUXILIARY CORE - 13,500
SCOUTER - 18,000
CAPSULE CASE - 18,000

BATTLE ARMOR - 27,000

KAI WEIGHTS - 18,000
HELMET - 18,000
BIO-SUIT - 18,000

V2 - MP REMAINING:
24
V2 - ZENI REMAINING:
4,000