Post by turlock on Mar 14, 2019 16:19:31 GMT -5
CHARACTER BIO
NAME:

Turlock
Driven from the words "Turning" and "Locking" the name "Turlock" means to never stop turning while never locking which could be said about gears that always turn end up locking at one point.
RACE:

Hybrid
Xeno (Heran) | Saiyan

AGE:

21
GENDER:

Male
HEIGHT/WEIGHT:

5'8 ft | 189 lbs
APPEARANCE: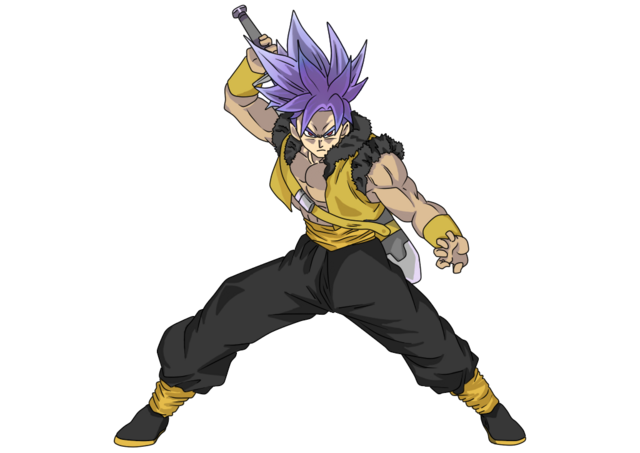 (This image was lined/colored by Curly Head of Discord)

MOTIVATIONS:

As the calm individual Turlock portrays, the ideology behind many of his actions is readable. Like a open book on a counter, he doesn't really aim to hide the things he do. The current notation in his plan deals with taking over the criminal underworld, while making the largest black market across the galaxy ever known to man. As a space pirate this is a simple dream most would desire, for Turlock it's more than a pipe dream, its stability. Like insurance for his future.
QUIRKS:

Turlock is a calm individual choosing to speak as little as possible, in comparison Turlock only speaks when he is deeply affected or concern about something. The urge to address something rarely comes to mind, often discarding it. Known for his immoral behavior, similar to all villains Turlock shows a lack of interest in things that does not benefit personal gain. While being a criminal he is incapable of showing remorse, or other signs of affection. This mainly to keep his overall image he has developed. The most affection he has ever shown to someone outside of his immediate family is a stern smile.

BONDS:
Father:
The father of Turlock was a low power leveled Saiyan who did not meet the normal standards of saiyan's. In some form of truth his father wasn't a fighter nor a thief/criminal like his son. He was a ordinary person. He could be describe as a suburban father, with a classic look of appearance. As most father and son's relationships go; Turlock has the most respect for his father. Even as a child when his father told him vast amount of stories about the world outside of their home planet. His father carefully explained that life outside was different, some people fought for evil while others had normal lives. Though his father never spoke about his own heritage to his son, afraid and ashamed of his status. How could he? himself was a failure to his own kind.
Mother: A alien with Humanoid features expect for the oddly colored hair and skin tone. Normal like her husband, Turlock's mother was a simple nurse. Having nothing more to offer than simple genetic. However, this didn't explain the scary persona his mother emitted when anger. Whenever Turlock was in trouble, it was like a world had exploded. Untamed rage of a curse spirit, there would be times Turlock would run out the house to avoid his mother special fry pan attack. Turlock witness his father being knocked out for three days from one of these attacks. In his own image his mother is scariest but also the strongest person he knows. Because of this, he doesn't explain much about his career choices to his mom.
BACKSTORY:

Born on planet Hera of the west quadrant. Being dominant in Saiyan race, Turlock faced various challenges like: fighting, running, and other forms of "seeing who is better" among the clans children. More common than normal Turlock would end up fighting each day, constantly with other kids. Coming home with different bruises; as a kid Turlock personality was more cheery and friendly like his father. He met a friend named "Chu", Chu was a small orange hair boy that lived three houses from his, the two bonded over skipping rocks in the reef. Turlock's fondest memories are with Chu.


".....Turlock, you ever wonder what's out there?" Chu asked.
"..Hmm? Oh, ya mean like other planets?" Turlock said throwing a small rock into the water, failing to skip it. "Huh?!?!"
"Yeah. I-...I wanna go explore one day..haha" Laughing with his words, his face filled with bursting excitement.

Turlock shook his head "Well... let's steal a ship and go" He said with a cheeky smile folding his arms with his chest puffed out.

That moment Turlock and Chu had started to plot to steal a space craft without knowing the dangers of stealing. Even with his smile, Turlock never imagined being able to leave Hera, the thought never crossed his mind. No matter how many stories his dad told, in his head his dad was telling him tall tales. In one ear and out the other. Over the course of time, the two small boys plotted and mapped the planets they'd visited. Firstly Turlock wanted to know more about himself, like where did he come from. Who were his people, Chu on the other hand would only encourage him. Not really having any novitiates.


CALL TO ACTION:

"HEY! STOP THOSE BRATS!!" Someone yelled of a stern voice. "Hahaha! Keep up Chuie" A mature Turlock shouted looking over his shoulder. Dashing through the streets of the inner market, leaping over a barrel of boxes. Chu behind him running with his body shifting from one angel to another. "Hey we all can't be fast now" Chu said twirling around a man trying to latch onto him. "What the hell anyways?! What did you take from that man anyways?" Chu asked snickering. Turlock looking over his shoulder one more time, before coming to a harsh stop and dashing into the alley, not before pulling Chu along. Laughing like he lost his mind with one hand over his stomach his ruby eyes stared at him. "This... the final part to our ship..." ....."No way??? Is that it??" Chu face lighting up reaching out to take the item from his friend's hands. "Yup...by tomorrow we'll be off this salt rock" he said rubbing his nose.

---
STARTING BUILD
FIGHTING STYLE:
Tenacious
The tenacious fighter is focused on survival. They can take a beating and keep going, which lets them wear down their foes and clinch the win.
SKILL POINTS:
FIGHTING (Accuracy):
15
ENERGY CONTROL (Damage):
15
REFLEXES (Defense):
10
RESILIENCE (HP):
10 + 10 (Saiyan Racial) = 20
Picked TECHNIQUES:

SONIC SWAY
You rely on pure fighting instinct to help you bob and weave through your opponent's attacks.
Type. Defense
Action. Bonus Action - Reactive
Effect. As a bonus action you avoid damage from all damage dice that roll a natural 8 or lower during your turn. If you take zero damage from an attack this way, it counts as fully avoided. Considered a Movement technique.
Cost. 15 ki
Limit. Once per battle.
Ranks. Rank 2 tech costs 10 ki. Rank 3 tech costs 5

ki ENERGY CONSTRUCTS
You form weapons or constructs of crystallized ki energy that help you fight in various ways.
Type. Utility
Activate. Bonus Action to create constructs. At-will to use them.
Effect. As a bonus action you create 4 energy constructs. As an at-will action you can activate number of constructs to add one d6 as a bonus damage die to assigned Basic Attacks during your turn. Alternatively, as a reactive at-will action you can sacrifice constructs to negate damage from attacks that hit you during your turn. Each construct spent on an individual attack negates 3 damage, to a max of 12.
Cost. 10 ki
Limit. Once per battle.
Ranks. Rank 2 you create 6 construct. Rank 3 you create 8 constructs.

N/A

Custom Techniques:
Name: Dark Purgatory Arrow
Dark Purgatory Arrow is a technique conjured by Turlock through "Ki Energy Construction" then by changing the elemental nature of his ability by focusing small ki like particles in his hand, or rather more simple, into the shape of large arrow with the length of 13cm that rivals a Japanese Sword in length and width. Once completion, Turlock immediately executes the attack in the desire direction of his enemy. Once impact is made, the attack has the likely hood of causing searing flames that can possibly burn the target. This attack is known to also cripple targets when aimed at vital organs.
Type: Single
Activate: Attacks always require a standard action.
Base Damage: 2D
Major Effect: Versatile
Minor Effect: Sear (50% chance to Burn target) | Cripple ( 50% chance to Cripple target)
Cost: 15

N/A

EQUIPMENT:
N/A
---

MISC.

Character Art Drawn by me.

Another Dragon Ball Forum