Post by Doctor Kaijin Vex on Jan 23, 2019 2:27:15 GMT -5
CHARACTER BIO
NAME.
Majin Khoshai
RACE.
Majin
AGE.
Eight-Nine Years
GENDER.
Male
HEIGHT/WEIGHT.
4 feet, 10 inches. 90 pounds
APPEARANCE.
MOTIVATIONS.
To have fun. That is the essence of Majin Khoshai's character, in which he exhibits quite a number of traits reminiscent of the innocent form of Majin Buu. As such, he has a generally pleasant, yet mischievous personality. As such, he is generally fun loving, and will try and do anything that he finds enjoyable, even if it gets him into trouble (which it often does). Kho also seems overly curious, and as a result has a tendency to get into things he shouldn't, which also serves to get him into trouble. Majin Khoshai could be described as a "blank canvas" of sorts. Overly innocent, and overly neutral. Since his motivations are pretty simple and flexible, it leaves him vulnerable and exposed to influence from anyone tenacious enough to try and sway him.
QUIRKS.
[Childlike Innocence]
Generally fun-loving, Majin Khoshai is a bundle of utter joy and love. His personality is heavily influenced by his centuries old ancestor, Majin Buu, in which he is generally very happy go lucky, immature and curious. Khoshai's policy towards people and friendships, as a result of this, is rather simple: Be nice to him, and he'll be nice to you. The greater evils of the galaxy and the manipulative nature of people in general are lost on the child. But then again, what elementary school aged child is expected to know the evils of man? However, his naivety and natural curiosity can make him into quite the troublemaker, especially considering that he has come to the age in which he finds small pranks extremely amusing, much to his joy, and the victim's detriment.
[Extreme Temper]
As all Majins exhibit, Khoshai is emotionally bound, through and through. Such is even more present given he is at an age in which most would be tied to their emotions anyway, the inherited traits of his race only spurring such into overdrive. In accordance with such, Majin Khoshai wears his emotions on his face, and such emotions can switch up at the drop of a hat. His passive good-naturedness can morph quickly into an uncontrollable fury at a moment's notice, upon provocation. The only issue is....what can provoke such anger? Well, that's the bad part. It depends. Something as simple as being denied an ice cream cone can bring about a massive mood shift that usually spells temper tantrum. And while most the temper tantrums that most children undergo are at most annoying, Khoshai's immense level of power can bring about wide-scale destruction if he were to truly let loose.
[How strong ARE you?!]
When it comes to Majins, there is a lot to be confused about. I mean, their bodies are all rubbery and stuff, and they talk about candy....a lot. Then there's the magical shit. But, what is truly peculiar is his Ki signature. Majin Khoshai was born a mutant of his race, given that his power level, even upon first being formed from the Love-Love Beam, was astronomical, the power the infant wielded being higher than most adults, resting at a passive seventy thousand, which only grew naturally while the boy matured, leaving Khoshai currently at a level of power that few are able to attain...without much formal training. However, while most are able to judge a person's combat ability by their aura of otherwise power level, Majin Khoshai's Ki Signature is rather odd. Not unnatural, as Androids are, but simply odd in the fact that is increasingly difficult to get a clear reading on. Khoshai's Ki can be described as constantly fluctuating and changing, making it difficult to discern how strong the boy truly is. Hell, the child himself may be unaware to how strong he truly is.
[Candy Lover]
What does every Majin love? Candy! It's practically in their DNA. The sweet tooth of a Majin is practically insatiable, and when you're a nine year old adventuring the greater galaxy by yourself with no parental supervision....well, thank the stars the boy hasn't gotten a cavity yet. If there is a promise of candy, the boy will do just about anything you ask of him. Interestingly enough, Khoshai was quite the theatric nature when it comes to fighting, and often times will tack on silly, exaggerated names to his techniques. And time and time again, what happens to constantly reoccur as the main subject? Well, you guessed it. There's also that added perk in which Khoshai could magically turn people into practically anything, with the favorite amongst Majins being candy/chocolate. Let's just hope that Khoshai doesn't get any wise ideas with that little ability, or else it could spell trouble!
[Hot Chocolate Addict]
Does this truly need elaboration? He has a problem. At eight years old. Of course, this would stem from the candy problem. Khoshai has a near addiction to the steaming hot, chocolate beverage. Why? Because it's sweet, and it contains chocolate in the name. Need anymore be said?
[Daddy Issues]
Whoops, here's a dark topic. Well, the subject of Khoshai's background is rather dark, no matter how much the child may smile in his attempt to forget. The subject of all his pain and heartache is his father: Majin Saharis, also known as the "Devourer of Galaxies". A malicious Majin whose only focus is destruction, he settled down with Majin Leah after being completely captivated by her strength, finding her tendency to destroy much like his own. Even though Saharis settled down with Leah and built a family that lasted nearly fourteen years, the man could not handle being bogged down into a normal life for the remainder of his days, and rebelled in the most violent way possible. To him, family was a burden. Family was weakness. So what did he do? One night, he struck his entire family, beating and absorbing them into his own flesh one by one, until only Majin Khoshai was left. Saharis would have consumed the boy too, if the boy hadn't exploded in fear and anger and managed to escape his father in a burst of uncharacteristic power. Majin Khoshai managed to escape Abbayor, and never looked back. However, Khoshai finds the subject of his family to be rather painful to talk about, and would do anything to change the subject. Often times, he tries to forget his past by latching onto those he calls friends, which would often explain his overaffectionate nature, and his desire to be friendly and trust everyone.
BONDS.
[Majin Leah]
Khoshai's mother, and overall role model. The kid adored his mother with all his little heart. Born to a group of wandering Majin, Majin Leah, like her son, was born a mutant, but not in the same way as her son. She was not born with overwhelming strength, but with genius-like intellect, that was most unlike the standard level of her race. Even from childhood, she wanted to do something with her life. She wanted to be a hero, to make a difference in people's lives. And so, that is exactly what she did. Building up a tremendous level of power through sheer hard work and dedication, Leah enrolled in the Galactic Patrol Academy and shot up in the ranks, becoming an officer by the time that she had met Majin Saharis, during an operation on Tritek. While he admired her strength and bravery, she admired his freedom and his ability to capture everyone's attention when he entered a room. Their relationship quickly grew, and the too soon "married", which wasn't saying much given Majin cultural standards for marriage weren't exactly set in stone. Nevertheless, the two were rather quick to have their first child, Reya, shortly after they officially became an item, and had Majin Khoshai eight years afterwards. Leah was mostly ignorant to her husbands's sins behind her back involving the regular abuse of their children, due to a combination of Saharis controlling what their kids would say when she was around, and the fact that she
wasn't
around. She was constantly on the front lines, dealing with threats as they came through to her. It wasn't until Saharis went on the attack that everything was revealed to her. However, try as Leah did to set her wrongs right, Saharis proved too strong, and consumed Leah.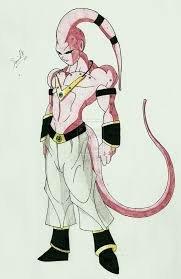 [Majin Saharis]
Not all Majins in this day and age serve good. Some are born with evil in their very souls. Majin Saharis is one such man. From early childhood, his thirst for power and greatness was considerable. His insatiable quench for conquest and destruction led him into quite a few battlefields in his day, which allowed him to meet his future wife, Majin Leah. Saharis admired her strength and cunning, her potential for destruction, her use of murder as a tool. It was so different from his mindless carnage, yet so potent, that merely watching it enthralled him like no other. Leah in turn, was taken by his silent strength, and the fact that he was dangerous...yet was interested in her. The two fell in love, Saharis even forgetting momentarily about his hunger for power, in favor of settling down with the person he loved the most in his life. He sired two children, Majin Reya and Majin Khoshai. It wasn't until Khoshai was born, that Saharis began to question himself. Was this truly what he wanted? Was this his fate? To be bogged down in a cushy position in the Empire, watching over children, picking out clothes and perform simple house duties while his wife served on the front lines? One day, the man exploded. He was furious at having been distracted from his prerogative. At allowing himself to grow weak. His family made him weak. His dependency and his love made him weak. And there was only one way to remedy that. Saharis bided his time, until his wife returned back home one night, when Majin Khoshai was only five years old. And that night, he struck his entire family, beating and absorbing them into his own flesh one by one, until only Majin Khoshai was left. Saharis would have consumed the boy too, if the boy hadn't exploded in fear and anger and managed to escape his father in a burst of uncharacteristic power. Majin Khoshai managed to escape Abbayor, and never looked back. As for Saharis? He is somewhere amongst the stars. And Khoshai knows that where ever he is, something is in peril.
[Majin Reya]
The older sister of Khoshai by eight years, Majin Reya is the firstborn child, formed from the very first Love-Love Beam between Saharis and Leah. While Khoshai seemingly inherited Saharis's unnatural, monstrous strength, Reya inherited her mother's genius, and boasted higher levels of intelligence from an early age. Thus, by the time Khoshai was born, she was the first to notice a shift in Saharis's attitude. A shift from a loving, present father back into his cold, brooding ways of old. Even before the beatings set in, she knew that he had changed. On the night of the attack, Reya's priority was trying to get herself and Khoshai out of the house while her parents duked it out, the thirteen year old fully aware that she could do nothing against her father's power. Nonetheless, Leah failed to hold off the Devourer of Galaxies long enough for Reya and her little brother to fully get away, and she was promptly absorbed.
BACKSTORY.
Majins are a relatively new race to be ushered into the galaxy. Majin Buu, who was the original Majin, had existed since time immemorial. However, the existence of the greater species had only been in existence for the past five hundred years, developed by the union between Majin Buu and his offshoot, Miss Buu, the first Majin child being created by the Love Love Beam. Since then, the Majin race has changed and evolved faster than any other mortal race present, showing dramatic variations in intelligence level, skin color, size and more. The Majin race was not simply a race of childlike imbeciles. While traits of the original Majin Buu remained persistent in each and every single Majin born afterwards and in subsequent centuries, it was wrong to categorize every single Majin as equivalent to Buu.
Khoshai's family was an exemplary example in the variations between Majins.
Like all Majins, Majin Khoshai was born through the union of a female and male Majin, more specifically the union between Majin Leah and Majin Saharis. Bits of pieces of their flesh were torn off and mixed together, before the pair fired the Love-Love Beam into that lump of pink/purple colored flesh, thus creating the infant Majin Khoshai, the second and youngest of the family. Being a mystical descendant of Majin Buu, Majin Khoshai was born with already tremendous power, his power, from birth, already towering amongst what was considered an average fighting ability for most adult warriors. What was supposed to be the happy celebration of the newborn baby boy quickly became a tragic tale of betrayal, and wickedness.
Majin Saharis, an incarnation of evil and darkness, had been managed to be seduced and have his heart won over by the pure Majin Leah, and their love was what bound them together and spurred them to have children. At first, Saharis was happy, and seemed to be on the verge of letting go of his desires for constant consumption and endless destruction and mayhem, in favor of living with his wife on Abbayor, and raising their children. However, Khoshai's birth brought hesitation to the evil Majin's mind. Was this truly what he wanted? Was this his fate? To be bogged down in a cushy position in the Empire, watching over children, picking out clothes and perform simple house duties while his wife served on the front lines? To be deprived of his true calling, which was the utter destruction, and instead babysit a toddler and a small girl and live in relative peace?
Absolutely not.
The discovery soured Saharis's mood considerably, and for years, the Majin sat brooding in Abbayor, a sentiment which reflected negatively on Khoshai's growth, unfortunately. If one were to ask Khoshai how his father treated him, he would probably say something along the lines of how hard he tried not to make his father angry, or how he tried to be as quiet and stay as far out of the way as possible. However, it was much worse than that. Saharis would often spend weeks in his room, cut off from the rest of the family, or taken random detours offworld for a month or more, all while Leah was deployed on the front lines in service of the Empire, leaving young Khoshai with nothing but his older sister of eight years to care for him. However, when Saharis was present before his children and wife, he was what one could call...an abusive husband, if such a term ever existed amongst the Majin species. Usually, he would get his fill of "destruction" by beating on his children as savagely as possible, usually when his wife wasn't present. However, everything topped off soon after Khoshai turned five years old. Late one night, Majin Saharis decided that small doses of destruction here and there would no longer satisfy his desire for blood, for gore, nor will it satisfy his voracious appetite. Thus, after the remainder of his family went to bed, Saharis attacked his own family, his own flesh and blood. Attacking Leah first, husband and wife ended up locked in a savage fight that destroyed more than a quarter of their family home. However, after a brief struggle, Saharis ultimately beat his wife of more than a decade, before eating her using the Transfiguration Beam. It took even less time to do the same to the then thirteen year old Majin Reya. However, when it came to five year old Majin Khoshai, Saharis found himself unable. Not because he lacked the conviction to do so, but because he found himself surprised by the boy's unnatural level of strength, which in the heat of the moment, spurred by panic and fear, quickly surpassed that of his mother, and briefly overpowered Saharis at the time (albeit the "Devourer of Galaxies" was heavily restraining himself, and most of his inability to overpower the boy was due to surprise). However, that was all the child needed.
It was that night, also, that Khoshai first utilized his trademark techniques, the Dimensional Rift. In a spur of blind fear, Khoshai managed to escape through sending himself through a wild dimensional portal that he managed to conjure through a mix of magic and brute, unbridled power. No destination in mind, and no idea of what he even made, he just ran straight through it, sending himself across the galaxy, causing him to land on a little planet called Earth.
And the rest is history. The night of the attack, due to the panic and trauma of the situation, is mostly a blur for the boy, but Majin Khoshai carries the trauma with him, even behind his happy go-lucky exterior. As a result, the boy buries himself in companionship, and despises being alone. Nonetheless, Khoshai drives on, with the intent of finding himself new friends to bind onto, that are willing to accept him for who he is, and perhaps grow stronger along the way, as well as discover the wonders of the world. And one day....confront his father as an equal, instead of as a snack.
CALL TO ACTION.
Driven by an adventurous spirit and a thrill for exploring the unknown, Majin Khoshai dives headfirst into the extreme, and still manages to come out on top. His actions across the galaxy will no doubt gain him some recognition. And with that, Majin Khoshai's immense power and mystic ability will of course serve as an attraction for many, friend or foe. Where he would ultimately end up next, is anyone's guess.
RACE AND TRAIT.
Majin Race. Majin Khoshai gets a +10 to Resilience.
OTHER.
Original Character Sheet:
Kaijin Vex
If using a face claim, what is their name/what anime are they from?
OC Majin Character