Post by Lute on Jan 19, 2019 20:45:59 GMT -5
PLANET SAIBA
World Type:
Large verdant world with Earth-like conditions
Climate:
Humid, tropical temperatures & frequent monsoons
Inhabited:
Yes, chiefly by Saibamen and Mogeramen
Brief History:
Planet Saiba is a large jungle planet orbited by a single moon. It is almost completely covered in dense rain forests, save for its waterways and seas. Its gravity is slightly above average for the universe, at 1.5x that of Earth. As a result, most inhabitants are short and stocky beings, though large terrestrial predators do exist. Planet Saiba is interesting in that both plant and animal life evolved along similar lines. There are nearly as many species of mobile plants than their are stationary plants that have evolved to possess roots like those of Earth. The planet is located in North Quadrant, not far from the Planet Vegeta. It remained hidden for much of history, only to be discovered in the last thousand years by a myriad of races from Tuffles, to Saiyans, to Frieza's enigmatic race. None have bothered to colonize it due to the amount of vegetation that would need to be removed, low abundance of natural resources, and the ever hostile indigenous races.
Native Species:
SAIBAMEN
Average Height:
5'0" (153cm)
Average PL:
1,200~
(Varies with soil quality)
Technological Level:
Primitive
Faction Allegiance:
Neutral
Current Status:
Hostile
Strongest Living Member:
Seto Saiba
Description:
Saibamen are a race of plant-based organics that operate similar to Venus flytraps of Earth on a biological level. They can eat both plant and animal based life for nutrients, having long ago evolved beyond the need for roots. Saibamen can also synthesis their energy from photosynthesize, as chlorophyll gives them their telltale green pigmentation. They need only ample sunlight and a steady supply of water for this. Saibamen are short, with stocky builds, large heads, and limbs ending with sharp claws on their hands and feet. Saibamen reproduce by asexual germination, much like flowering plants do. They release seeds from special pores on their body, which are then fertilized by pollen from either themselves or other Saibamen. Because of this even a single Saibaman can, given enough time to reproduce repeatedly, repopulate to the point of overwhelming local ecosystems. In addition, Saibamen are natural ki wielders, spit caustic acid from their heads, and can detonate with enough force as a last ditch effort to kill predators.
Brief History:
Planet Saiba was once populated by a teeming number of animal species. Several were fast on their way to sentence, until the Saibamen that is. Planet Saiba is home to many predators, and even plant life has evolved into roving omnivores creatures. The Saibamen are neither the largest, strongest, or fastest beings on their world. But they are the most numerous. They used their numbers and quick generational cycles to eventually out reproduce other notable species of their world. Saibamen inadvertently caused a planetary wide extinction, killing and eating whole species and civilizations out of existence. Now their world is void of animal life, save for species that are avian, aquatic, or live deep underground. Saibamen were discovered in the last thousand or so years by the Frieza Force, and converted into a kind of biological weapon. Their seeds are stored in small vials, worn by soldiers of the Planet Trade Organization and used to grow battle ready cannon fodder in minutes. Depending on soil conditions they can easily overwhelm some opponents, and regardless provide readily available shock troopers that can wield and sense ki. As a society Saibamen have never advanced beyond a tribalistic state. They possess no written language, only a guttural verbal one spoken with harsh clicks and screeches. They primarily wander as nomads, endlessly hunting for prey or rival bands of Saibamen to defeat. Few permanent Saibamen settlements exist, and those that do lie mostly in the ruins of the once proud civilizations of their world.
MOGERAMEN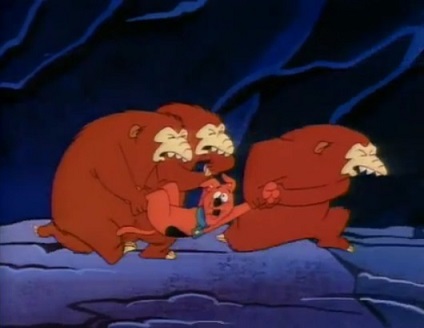 Average Height:
6'0"
Average PL:
400
Technological Level:
Pre-Industrial
Faction Allegiance:
In desperate need of allies
Current Status:
Peaceful
Strongest Living Member:
Great Sightless One (High Priest)
Description:
Mogeramen are the only remaining other form of sentient life on Planet Saiba. Unlike the Saibamen, the Mogeramen are animals, ones who evolved to live deep underground. They dwell in large communal societies built around underground reservoirs and aquifers. Mogeramen are larger and more heavily muscled than Saibamen, with thick coats of fur that are brown or black in color. Males are slightly larger than females, with much broader shoulders and powerful forearms designed for digging. Females are smaller, and have much more sensitive noses to seek out mushrooms and edible grubs. Mogeramen do not naturally wield ki, but do possess some basic psychic and magical ability. Their shamans, known as Dirt Priests, can tap into magic to materialize objects and repair damaged tunnels. The species can also can communicate and sense nearby Mogeramen with a crude form of telepathy. This is useful to coordinate their burrowing and avoid causing cave ins.
Brief History:
In ancient times Mogeramen were a semi-surface based species that lived in communities of huts that sat in the bowl shaped basins left by their great mines. They collected water at pools at the bottom, and higher members of society lived on the upper rims of the mines, closer to the sun and its light. However, the rise of the Saibamen sent the Mogeramen fleeing underground. Initially they fought back, forming a desperate alliance with other surface dwelling races. But as the Saibamen defeated their allies one by one the Great Sightless One ordered his followers underground to salvation. His prophecy proved accurate, and the Saibamen were unable to find and kill the Mogeramen clans that heeded this edict. The species now exists in large psuedo-kingdoms, ruled by lineages of royal Mogeramen. All their clans swear allegiance to the Great Sightless One, a title bestowed on the oldest, and thus strongest living Dirt Priest. Society's advance has slowed to a crawl with the loss of light and social stimulation. Most Mogeramen live only for the sake of living, and they possess few scholars, scientists, or free thinkers. They are however a friendly race, especially those able to communicate psychically with them. The Mogeramen are welcoming to any outsider who displays the same hatred for
goblins
Saibamen that they do.