Post by Deleted on Dec 22, 2018 17:55:39 GMT -5
CHARACTER BIO
NAME.
Cress of the Dragon Clan
RACE.
Namekian
AGE.
38 years old.
GENDER.
Male
HEIGHT/WEIGHT.
6ft 7in. / 235 lbs.
APPEARANCE.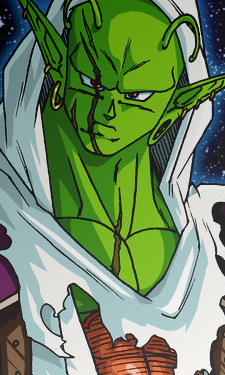 Trained to be a Sage Namekian, Cress is a born and bred mystic warrior.
At a natural height that allows him to tower over others, his impressive muscular physique boasts the tell-tale scars of past battles, both victories and defeats. His pointed ears are adorned with gold piercings, and a distinctive scar runs the length of the right side of his face -- a parting gift of a particularly brutish Saiyan.
His typical attire is shirtless, exposing his muscled upper torso with silver bangles adorning his biceps. His lower half is covered in traditional martial arts pants and geta sandals, as well as a tattered white cloak with a hood that often shrouds his features.
MOTIVATIONS.
Cress believes, throughout their history, that Namekians have constantly suffered at the hands of others. His goal is to protect Namek from further harm and interference at the hands of other species, to ensure they are no longer powerless slaves to the whims of the universe and its genocidal inhabitants so that Namek can not only survive, but flourish and thrive as a people and a planet.
He accomplishes this goal by seeking a deep wisdom of the mystic arts, honing mind and body to tap into the deep wells of power that exist within him. Cress desires to seek out powerful magics and artifacts in order to bolster his own ability, especially those magics of a forbidden variety.
Such magics often twist one's mind and character, but it is a price he's willing to pay to obtain the power of a Namekian deity. He will surpass all powerful Namekians before him -- the sages of old, and even the fabled Super Namekians. He will become a powerful sage of mystic warrior might and prowess, and only then, ensure the survival of Namek.
The only path to achieve this goal is obtaining power, power enough to challenge the authority of Namek's elders and usurp their power for himself. Power such as discovering the fabled Book of Namek and it's timeless teachings. Power even to create his own set of dragonballs.
QUIRKS.
It isn't that he hates anyone who isn't Namekian. But Cress understands the heavy involvement of countless other species, particularly the Lord Frieza and his men, and the Saiyans who fought them so many centuries ago, helped to further oppress his people.
He does not view the legendary Super Saiyan that killed Frieza as a hero, nor the Z-Fighters. Namek would never have been destroyed if it weren't for the lot of them, and the progression of their species nearly halted in a matter of days. Because of this, Cress bears a heavy distrust of anyone who isn't a Namekian.
He is also an orator, prone to lengthy discussions and speeches. He is not opposed to using diplomacy as a tool to further his agenda, nor is he opposed to aligning himself with other beings, both good and malignant, as a means to an end, even if he despises them. Powerful individuals seeking the very magic wielded by the Gods are his greatest allies.
BONDS.
The elder of his village, Gorma. He was quite influential in Cress's growth and development, even shaped many of his personal world views, rhetoric and agenda. Gorma is largely responsible for his training in the sage arts, and Cress was being groomed to some day replace his old master as Elder.
There's Fluta and Oboe, two of his childhood friends, both of whom chose the peaceful path of farmers and healers. They do not share in his ideals, instead wishing Cress would return to Namek and be the protector he claims to be.
Lastly, there's Vocado, the Saiyan that gave him his scar. It was influential in Cress's decision to secure Namek's future through means of power, versus the gentler doctrine and urging of the elders.
BACKSTORY.
Cress was a warrior-type Namek, and appointed as the protector of his village and its elder, Gorma.
Spending most of his time with Gorma, Cress learned of Namek's long and violent history. While others marveled at the stories of how the great tyrant Frieza was slain by a Saiyan warrior from Earth, Cress inwardly blanched at the very thought.
Why couldn't Namek's salvation come from its own people? Why were the warriors of old so weak, when their sole duty was to protect Namek? Seeking to quench the unrest stirring in his heart, Cress shared this with Gorma, and two of his closest friends Fluta and Oboe. While Gorma was sympathetic to the young warrior's cause, he advised against any action outside of the role Cress had been born to fulfill -- protect Namek and its people, and ensure their long-term survival.
But that's just it. Cress doesn't want to just survive, only for another great tyrant to come and wipe out all life on Namek yet again. Discontent began to grow in his heart, and no amount of training with other warriors could quell the fire in his spirit.
And then the fateful day came.
Vocado, a mercenary Saiyan, touched down on New Namek and began to hassle the locals for any valuables they had. He cited himself a soldier of the Saiyan Dominion, and barked that it was the duty of Cress and his brethren to support and supply Radia's armies in their struggle against the Galatic Empire.
Cress engaged Vocado in combat, but was soundly beaten. Vocado soon left, but not without leaving Cress an unforgettable momento in the form of a scar. Though his regenerative abilities could easily have healed it, it was Cress's force of will that would not allow him to do so. It would motivate him toward his goal to never be powerless in the face of Saiyans, or anyone else ever again.
He left Namek soon after, plying his own warrior skills to eke out a living for himself as a mercenary and regular competitor in planetary tournaments, even some underground fighting circuits. This has molded and shaped him into a strong warrior with an unshakable resolve -- to bring Namek into an era of unrivaled prosperity, and possess the power of a god to do it.
CALL TO ACTION.
After a sound beating by the Saiyan soldier Vocado, Cress sought to obtain strength he would not obtain by remaining on Namek. He has long since left to pursue power by testing his strength, growing stronger, and forming ties with people who suit his interests and purposes.
RACE AND TRAIT.
Namekian, +10 to Resilience.
OTHER.
Original Character Sheet:
docs.google.com/spreadsheets/d/1uYr8sAxiSgC8AKBkYbBVgRQeoHxwjGs7BBoXuRJjG7E/edit#gid=0
If using a face claim, what is their name/what anime are they from? OC Namekian from Deviantart.