Post by tomomi on Dec 16, 2018 13:21:18 GMT -5
CHARACTER BIO
NAME:
Tomomi Puelca
RACE:
Xeno-Earthling Hybrid (Xeno is the main focus)
AGE:
15 Years
GENDER:
female
HEIGHT/WEIGHT:
5"3' / 56 kg
APPEARANCE:
Tomomi has long curved blond hair, that she always have in twin tails. From her look she seemed pretty normal, like your typical 15 years old teenage girl with blond hair, well she technically is a normal girl, except she can use magic. She mostly wear her school uniform.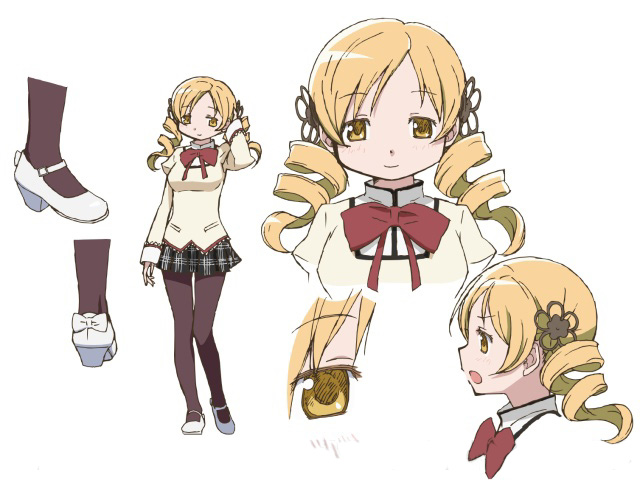 MOTIVATIONS:
She had made a contract with a magical being that wanted her to fight against evil magic user. In exchange she is still alive, that alone is quite the good reason, is it not. Also after learning about what really goes on, she got some determination towards wanting to protect the people.
Otherwise, she also wishes to live a normal life and maybe find a way to do so, as she currently hides the fact that she uses magic from public.
QUIRKS:
Staying calm is her best quirk. She always managed to stay calm in most situations and think it through. She mostly think things through and analyse it, but still got a good heart.
BONDS:
Booklas: She met that boy a while back. He is a fan of occult and magical things and help her out with his intelligence. He is currently the only one who knows her and supports her. One will never see emotions from his face, but he do care about his friends and would go the length to help them in his own way though.
BACKSTORY:
Tomomis dad wasn't from earth and her mom was actually working on a freighter. That was how they met, fell in love and married. As earth was mostly peaceful and quiet the couple decided to raise their child on earth. They lived in a small village outside of West City, where Tomomi was born and raised. It was a quiet town, with not much going on, but it got a transition to west city that went regularly. Actually her whole life went rather quiet and normal. She went to school there, had friends and were rather popular. The days went on and not much changed, even the attack on West City didn't change things in the long run, of course there was concern and sadness, as the City was near by, but still everything went back to normal somehow. But things changed as they wanted to travel to South City for vacation. While they were traveling to the port, were the ship was going, they were part of an accident. Some cars were crashed in each other, thanks to a ghost driver. For her parents all help was to late, but she was still alive, even if only by a margin. It was this when a magical being that manifested as an animal looking creature was giving her the opportunity to survive, if she wishes so, but in exchange had to fight witches, demons and other beings that used evil magics. With not much thinking she accepted it and the contract was made. She miraculous survived but her life changed. She had to learn to use the gift she got, the ability to use magic, so she can fight against evil doers and become a heroine of justice, as she thought she should be. But with all the memories and question in her birthplace, she couldn't simply stay there and moved to Satan City, where she met Booklas, as she was doing horrible wrong and they befriended each other after that with him promising not to sell her out on her magic, as she was hiding it. Thanks to her parents savings she was able to afford a place to live and magically no one was questioning why she was living alone.
CALL TO ACTION:
After learning the basic of using her magic and some time she needed to overcome her losses, it was simple time to go to work and fight to protect earth from evil magic.
---
STARTING BUILD
FIGHTING STYLE:
Reserved
SKILL POINTS:
FIGHTING (Accuracy): 25
ENERGY CONTROL (Damage): 25
REFLEXES (Defense): 0
RESILIENCE (HP): 10
TECHNIQUES:
Tiro Finale
Tomomi summons a giant gun, using her magic, in front of her and fires a dense magical energy ball at her opponent, that can burn their skin.
Type. Single
Activate. Standard Action
Base Damage. 2 dice
Major Effect. Charge
Minor Effect. Sear
Cost. 15 ki

Kiai
Energy Shield
EQUIPMENT:
AI Assistance (Magical Being) [Talented, Endure, Resist] > Accessory
Demon Ring (Magical Item) > Gear
---
MISC.
If using a face claim, what is their name/what anime are they from?
PMMM (Puella Magi Madoka Magica) - Mami Tomoe
Where did you find our site?
Through my first char Thundos.