Post by Lute on Nov 2, 2018 11:16:46 GMT -5
MONSIGNEUS
World Type:
Super-Earth with extreme levels of tectonic and volcanic activity
Climate:
Skies of noxious gases, acid rain, and constant volcanic eruptions
Inhabited:
Yes, chiefly by Fire Demons
Brief History:
Monsigneus the ancient homeworld of the fire demons, a war-like species of demon with a natural affinity for flame based magics and ki abilities. They are as an industrious as they are militant race, tirelessly harvesting the planet's volcanic resources to fuel their insatiable war machine. The planet is considered a treasure world, and its coveted vast mineral wealth have made it the site of countless wars since the oldest records of the Demon Realm chronicler. The molten planet is an exceptionally harsh world, with high gravity from its sheer mass and continuous volcanic activity owing to its erratic tectonic plates. Due to this, the skies are filled with a constant stream of toxic plumes giving the world a dense and highly caustic atmosphere. What little water is found naturally on the planet is undrinkable to most beings, and precipitation falls from the sky chiefly in violent maelstroms of acid rain.
The planet is believed to have been originally created during the tumultuous eras after the predecessors of demons were cast into the void at the bottom of the universe. Thought imprisoned for all eternity by the Kais, the powerful beings banished in the void discovered a terrible source of power dwelling within. Dark Energy, a chaotic, writhing power pulsed within the black abyss that was this empty void. The ancient demonic predecessors harnessed their newfound gift to their fullest extent. Unlocking its powers corrupted the beings' very forms, creating the first generations of demons. These demons began shaping the void in their own image, willing into creation whole galaxies over the the eons with their fel magics.
Monsigneus was among the countless worlds created in such a way, having been born by the hand of a primordial fire demon remembered only as the First Flame. By his hand the demon sired an entire race of hellish creations that mirrored his characteristics. These beings, Fire Demons, served their creator with fanatical devotion, burning everything in their path in their master's name. Little is known of what happened after this point, only that the First Flame eventually died, and his army of servants now leaderless turned on themselves. Factions within the ranks of the Fire Demons splintered apart, rallying under powerful fire demon generals as they took up arms against their kin. This schism began the origins of the fractious Fire Demon Clans, who battle both each other and their neighbors for supremacy in the endless warring conflict that rages across the Demon Realm.
Native Species:
FIRE DEMONS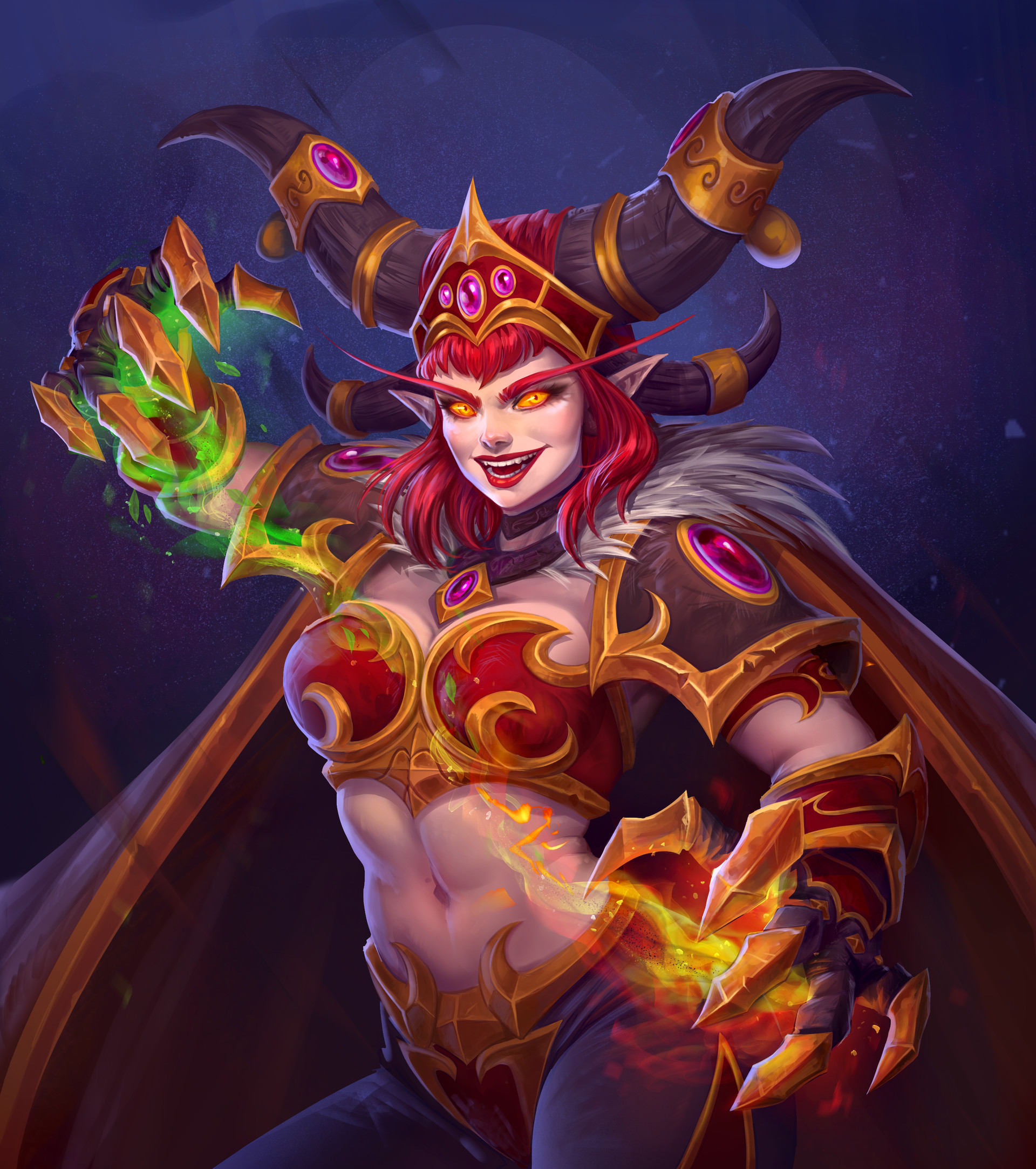 Average Height:
Females: 6ft, Males: 10ft
Average Weight:
Females: 170lbs, Males: 800lbs
Average PL:
2,000 - 10,000
Technological Level:
Advanced
Faction Allegiance:
Demon Realms
Strongest Living Member:
Amatricina
Description:
Fire Demons are an approximately humanoid race, with great sexual dimorphism. While females stand at average height compared to a human male, males are significantly taller and grow much more rapidly over their long lifespans. Fire Demons age slowly, living for over six thousand years before succumbing to old age. It is far more likely they die in battle before reaching the end of their natural lifespans though as a result of their warring nature. The race has generally pale or even ashen skin tones, with sharp facial features and long elfish ears. Their nails are long and claw-like, and their teeth include four fanged canines. Hair color typically runs a varying shade of red, though oranges are not uncommon. Likewise, some hair is deep enough in color it appears almost black. Fire Demons' most striking characteristics however are their fiery red eyes and multiple sets of black horns that protrude from the back of their skulls. Eye color is typically anywhere from bright red to a deep crimson, though a Fire Demon's eyes will glow with fiery orange light when they draw forth their demonic energies.
Brief History:
Fire Demons are an ancient race of demons that dates as far back as the creation of the Demon Realm tens of millions of years ago. They refer to themselves as the living flames, both for their ability to wield and withstand fire based abilities. Since their inception they have proven to be an ambitious and power hungry race. The weak serve the strong or be turned to ash, and the strong seek conquest above all else. Fire demon clans unite under powerful warlords, and these warlords battle each other constantly for supremacy. On the rare occasions all fire demons are united under one ruler, they extend their conquests outwards with ruthless aggression.
Faction Allegiance:
Demon Realms
Current Status:
Hostile
Owned by Majin Ala