Post by Etohn on Aug 11, 2018 13:47:11 GMT -5
CHARACTER BIO
NAME:
Etohn Verstoss
RACE:
Half-Saiyan
AGE:
21
GENDER:
Male
HEIGHT/WEIGHT:
5'11" | 180 lbs
APPEARANCE:
Etohn has a fairly average height, being just below 6 feet, and is not particularly bulky for his size. It's easy to discern his Saiyan heritage from his spiky, black hair and defined muscle mass. His simple clothing and blue eyes, however, means that he could easily be confused for a regular Human.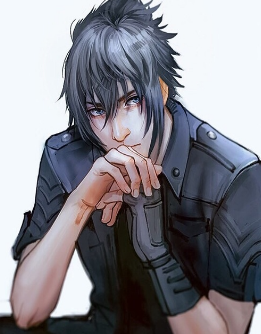 MOTIVATIONS:
Etohn wants to do nothing more than just help people when they can't help themselves. In the past, he fought for his own selfish goal, to simply grow in power, but during his journey to achieve this nebulous goal, he began to see more and more how the people need somebody to serve as their protector. Thus, with a renewed resolve, he decided that he needed to step up to the mantle.
QUIRKS:
Contrary to his Saiyan heritage, Etohn is a very kindhearted person, commonly helping and being friendly with those that he meets in life. However, that isn't to say that he's entirely unlike a Saiyan. At the prospect of a battle, he rarely will turn down an opponent. Fighting just feels therapeutic to the man. This natural inclination to conflict has also lead to him being irritable at times. If somebody did something completely moronic, he's not afraid of revealing his thoughts on that.
BONDS:
Family - Etohn's Saiyan father and Human mother, for most of his life, were the only people he really interacted with. The two met initially due to his father being grievously wounded, forcing him to give up his life as a mercenary, and settling on Earth. The two loved him dearly and worked hard to make his life as great as it could be on their little farm. The two did go about it in different ways, obviously, but Etohn cherishes his memories of this simpler life.
Ipomea - A Super Saiyan from Space Vegas that taught him many, many things, from how to use his ki properly in a battle, to the joys of arcades. They even were the one to initially teach Etohn of the Super Saiyan state. Without them, he wouldn't have gotten very far in life.
Taro - The late Saiyan Commander that served in the Dominion, and who also was the leader of the Queen's Guard. As Etohn's mentor, he pushed him very hard in their fights, even managing to force glimmers of his hidden potential to the surface in their fights. After leaving to train, Etohn was not around when he passed away after fighting Polaris. As he would achieve nothing by returning, the young half breed could only grieve for the man's death, and later on be pushed to improve to follow in his legacy.
Polaris - While they are now known as the ruler of the Galactic Empire, Etohn encountered him while he was a mere patrolman. The two frequently fought with eachother, with the Half Saiyan usually coming out the victor, much to the chagrin of the Frieza Clan. This ultimately coalesced into their latest fight, where Polaris showed off his new evolution in power and soundly winning the fight, taking Etohn's arm off in the process. Rather than letting this weigh on him, however, Etohn realized that the other man improved through his drive to defeat the Saiyans, inspiring him to find his own reason to improve.
Fushi - Serving Etohn's mentor on planet Shizen, the Half-Saiyan respects them a great deal. Without them, the man would have surely been slain by the wildlife of the planet, and he surely would have never achieved the Super Saiyan state. Their training was the most rigorous that Etohn had to ever endure, but it is what pushed him to the power he's achieved today, something he's very grateful for.
BACKSTORY:
Raised on the outskirts of East City on his Family's farm, Etohn had a very simple life. Between working the fields, he'd train and camp out with his father while his mother helped him study and learn practical skills. At the age of 18, having decided that he wanted to become a great fighter like his dad was in the past, he left that night, to ensure that they didn't stop him from doing so.
After this, he would soon find himself on Space Vegas and would quickly get into a match against Ipomea. Surprised by his power, she showed off her Super Saiyan state, what he now knows is a variation of the form involving her ability to turn into an Oozaru. The two became friends and he would occasionally come back to visit the Saiyaness.
Now left to his own devices, Etohn would go out and have fun with whatever it was that he found interesting in his travels. The Half Saiyan had many, many adventures during this period of his life, from combating the then-patrolman Polaris to joining the Saiyan Dominion and quickly becoming one of the strongest members of the organization and even saving the planet Namek by defeating Lord Trombone.
An end quickly came to this happy period of his life, however, when in a fight with Polaris, Etohn lost his right arm in their fight. Receiving a prosthesis, he decided that he needed to leave this life behind, to find a new way to get stronger. With foul beings like Polaris coming to power, he'd need to find a way to grow powerful enough to stand up to them.
Thus, he ended up crash landing on a completely uncharted planet. The only part of the ship that still functioned was its computer AI, which allowed him to keep updated on the going-ons of the universe. On there, he quickly realized that the natural energy of the jungle-like planetoid would snuff out any ki he tried to conjure up. He was basically left with no power, something the animals there do not suffer from. For weeks, he could only hide away, struggling to just survive. It was a struggle to just survive, and he thought that he'd surely perish out here. That is, until the lone denizen of the planet came to his aid.
With an incredible amount of strength, they easily dispatched of the creatures. Amazed by this, Etohn asked if he could learn how they managed to use any ki on the planet. The Xeno, who revealed his name to be Fushi, initially refused, but after weeks of the Half-Saiyan begging to learn, they relented. Though, in exchange Etohn must build a house for the man during their training. Accepting the odd terms, the two quickly got to work.
The main secret of this planet, what Fushi refered to as Shizen, was that the energy of the planet drained away whatever ki was released by beings on it, like a parasite. To do this, however, it must release its own energy, and that is where the secret of the planet was revealed. To use ki, you could not use your own here. No, you had to learn to take in the energy of the planet itself and have it fuel you. This was easier said than done, however. The planet's aura was not made to be used by other living beings, so it wasn't as simple as forcing it to flow through your body. To use it, one needed to be able to be at one with nature itself and allow its energy to flow through as easily as it would through the soil itself. Thus, many months were spent on meditation, progress coming very slowly.
After 8 months of this, Etohn had not only built a large home for the two to find shelter in and meditate without worry, but he had managed to use his full power on the planet, and shortly thereafter managed to become a Super Saiyan. Taro had already almost brought him to the state, so with how much his energy control improved during these exercises, it was a simple matter to put it all together. There was something peculiar about the form, however. Unlike every other Super Saiyan he'd encountered, there was no rage in his heart. Just like in his meditation, he felt completely calm.
Spending a few more months under the Xeno's tutelage, they soon said that they had nothing left to teach Etohn. He'd surpassed them long ago, and now he had nothing left to gain here. As one final gift, Fushi revealed the ship that he came to the planet on and offered it to Etohn. Eternally grateful and with the promise that he'd return frequently, the Half Saiyan finally left the planet, ready to return to the universe at large.
CALL TO ACTION:
Now that he is a Super Saiyan, he is ready continue fighting the evils that plague the universe, avenge Taro, and serve as a beacon of hope.
OTHER:
Original Character Sheet:
Link


Character Respec App:
Link
Face Claim: Noctis from Final Fantasy XV