Post by Ghost on Jul 25, 2018 21:25:38 GMT -5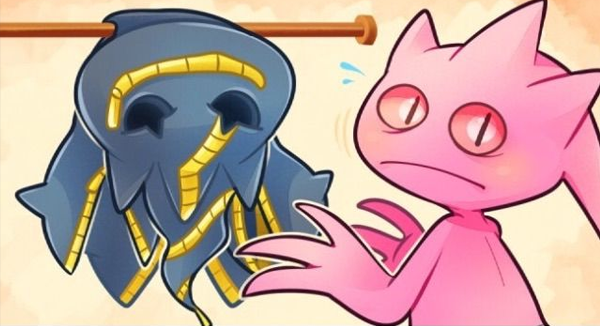 CHARACTER BIO

NAME: Ghost

RACE: Demon

AGE: Twenty-eight

GENDER: Male

HEIGHT/WEIGHT: 4'03" / 66.6 lbs

APPEARANCE: Ghost is a pink creature of short stature. He always sports at least one article of clothing - a black jacket linked with golden zippers. His hands slip out of the jacket's zippered sleeves and it opens up to allow his legs freedom. Beside that, the jacket appears all-encompassing save his vivid, red eyes.

Image

MOTIVATIONS: Ghost wants to find his place in the universe - a universe - just somewhere. He felt he did not belong in his birthplace nor places outside of that. While weak, he finds the only tasks he finds competence in are ones relevant to combat.

QUIRKS: Ghost is a frightening-looking little demon who is not really all that frightening. His heart, while steeped in darkness, is not one entirely of evil. He is pessimistic, does not have much confidence in his abilities and seems lethargic most of the time.

BONDS: Niflheim and Muspelheim; his parents. His lack of bonds were deliberate. His focus was to be on training, surviving, growing meaner and more terrifying. The majority of that did not happen. It, of course, had an impact on his mentality.

BACKSTORY: The demon realm is truly host to malevolence made manifest. Spawning ideas to birth new ways of wroughting destruction proves to be a common pastime. In fact, two demons in particular; Niflheim, a demon with masterful manipulation of ice and Muspelheim, a demon with dominion over fire. The two became nigh drunk on the idea of copulating to engender a child who they could only think to be a wondrous, perfect combination of their powers and natures.

They desired to breed an invincible weapon against mankind.

The deed would be a flux of pain and pleasure for bodies of such contrast were destined to fight and cry out when pitted against the other. However, it was done. A small demon of black was born. The child's name was Eitr. They were elated over what they had created, its potential and the promise of the bleak future they were intent on evoking as the most feared family in the universe.

The child was pathetic.

Both Niflheim and Muspelheim showed their child the many horrors Hell had to offer, instructed him in many hellish disciplines, but year after year until his thirty-third, they found their son had no talent for anything. He was rather meek with an inborn nature overwhelming to the point of weathering the great, spirit-breaking malice Hell generally injected into its occupants. Corrupt? Indeed, but salvageable.

Their frustration surmounted until finally, they saw fit to have their son embark upon one final training exercise. They tore open a portal with great effort, fervid emotion and cast their son through it. Where he landed was on the very planet they intended for him to land. Oneiri. It was a planet that probed the mind and fashioned nightmares out of its environment. The planet's ostensible intentions seemed malefic, but they would do.

CALL TO ACTION: Firstly, a name change. Being banished to a planet that seemingly wanted nothing more than to end the demon's life was enough to tare a rift between himself and his parents in regards to their relationship. So, he abandoned his name. His feelings of unbelonging to both the world he was born in and the one he was thrust into birthed the alias "Ghost." This is where everything starts.


---

STARTING BUILD

FIGHTING STYLE: Resourceful

SKILL POINTS:

FIGHTING (Accuracy): 25
ENERGY CONTROL (Damage): 00
REFLEXES (Defense): 25
RESILIENCE (HP): 00

TECHNIQUES: AFTER IMAGE, ENERGY SHIELD, POISON

EQUIPMENT: BATTLE STIM, DEMON RING


---

MISC.

Banette from Pokemon

Starting fresh, so this is my main. (Played Hoax)