Post by Lute on Jun 29, 2018 21:29:55 GMT -5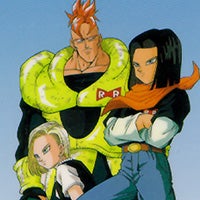 ANDROID
The original androids were mechanical constructs and cyborgs created by the evil scientist Dr. Gero to kill Goku. While the original Androids created by Dr. Gero were designed to conquer, assassinate, and destroy--a few like Android 18 broke free of that mold and proved that androids could do good. Evil androids still exist, but Capsule Corp. also reverse engineered Gero's creations and built their own versions--androids meant to be defenders and protectors of Earth.
Androids can choose +5 Energy Control or +5 Reflexes.
---
BIO-ANDROID
Not all androids are of the mechanical variety. Some androids are the result of biological experiments and have the ability to harness the ki of organic creatures. There have been instances of human scientists attempting to replicate the research of Dr. Gero and his bio-android known as Cell. These creatures are usually able to evolve and adapt their biology to fit their needs at a whim. They tend to have develop a severe tendency for getting a superiority complex or sociopath behavior.
Bio-Androids can choose +5 Energy Control or +10 Resilience.
---
DEMON
Demons are the creatures born of the Demon Realm. Although, sometimes other species will fall into demonic corruption and take on demonic traits. Many demons are savage and full of malice, fueled by their hatred towards the Kais and the Gods that promote creation and order in the universe. Many only wish to see the unmaking of everything. Few demons have the power to escape the Demon Realm, where they are trapped. However, there exists a select few portals that allow them to trickle through and wreak havoc, if left unchecked.
Demons can choose +5 Fighting or +5 Reflexes.
---
EARTHLING
Earthlings hail from the tiny blue planet of Earth. Most earthlings do not have the ability to manipulate ki. They must train hard to achieve that ability. Because of that, Earthlings tend to rely on their advanced technology. With the the advent of space travel through Capsule Corporation and the reverse engineering of starships by Bulma, humans have spread out across the stars--colonizing many worlds. .
Humans are the most populated types of Earthlings. They're just like you and I. Some Earthlings are sentient animals. These bestial people are quite diverse, ranging from pig-anthros like Oolongs, dogs like Shu, and cats like Puar. Animals are fully accepted within the earth society. Centuries ago, the King of Earth was a dog.
Earthlings can choose +5 Fighting or +5 Reflexes.
---
FRIEZA CLAN
Known for their most infamous member, Lord Frieza, this race's name has never been revealed. They often have many strange transformations and have a natural affinity for gaining power. They have been called Frieza Clan, Frost Demons, Icers, Changelings, and Arcosians. Despite their mystery, these beings have begun to emerge again and compete among each other for scraps of Frieza's defunct empire. Their disjointed competition is probably the only thing keeping them from ruling the universe.
Frieza Clansmen can choose +5 Energy Control or +5 Reflexes.
---
MAJIN
Born of originator Majin Buu, the majin are magical genie-like constructs made out of a putty like substance. Like Buu, many love sweets and have short tempers. Majin are uncommon, but a few are found on Earth. Luckily, because the events of the Majin Buu conflict were erased from the minds of the Earthlings, no one bats an eye at their presence.
Majin can choose between +5 Energy Control or +10 Resilience.
---
NAMEKIAN
The green skinned people of Namek have a storied history. They are the creators of the dragonballs and have a natural affinity for using ki. Namekians also have natural regenerative healing that allows them to recover from terrible wounds. Namekians once lived on the planet Namek, but their home was destroyed by Lord Frieza during his fight with a Super Saiyan. They were located to New Namek and have since rebuilt their society and are stronger than ever. Some of the Namekians have even joined the Galactic Patrol and help protect the galaxy against evil.
Namekians can choose +5 Fighting or +10 Resilience.
---
SAIYAN
The Saiyans are a warrior race who once lived on Planet Vegeta and served Lord Frieza in his armies. The Saiyan homeworld was destroyed by Lord Frieza, who feared they would grow too powerful. Other than a couple survivors and their hybrid offspring, the Saiyan race nearly went extinct. Saiyans have since been repopulated. The legends say that Saiyan volunteers were brought over to colonize, from a different Universe 6 where they were never destroyed. Those are just legends that many Saiyans dismiss to this day. The Saiyans are now nomadic and have just a tiny population most living as as mercenaries or professional fighters.
It's important to note that Saiyans from Universe 6 do not have tails naturally, however there exists gene therapy to awaken that hidden power.
Saiyans can choose +5 Fighting or +10 Resilience.
---
SHINJIN
The Shinjin or the "Core People" are a species of divine beings from the planet Kaishin. They are born of magic, as fruit from the mystical Kaiju Tree. They are beings of creation and also serve as the watchful deities over the universe, some of them being Supreme Kais. Shinjin look to reverse the corruption of the Demon Realm and help preserve life wherever they can. There are two variations of the race, depending on whether or not they are born of ordinary Kaiju Fruit or Golden Kaiju Fruit. Those of ordinary birth have less humanoid appearances and are destined to become Kais. Those born of the golden fruit are more humanoid in appearance and are destined to become Supreme Kais.
Shinjin can choose +5 Energy Control or +5 Reflexes.
---
XENO
The universe is a big place. There are countless billions of stars and among those countless billions of planets. Xeno is a human catchphrase describing any alien being or outsider. Feel free to describe your Xeno species as you wish.
Xenos can choose +5 Energy Control or +10 Resilience.
---
HYBRIDS, HALF-BREEDS, AND MIXED-BREEDS

If your character is a hybrid, half-breed, or mixed breed you choose which race is your dominate one and gain its skill bonuses and limit power. Once chosen, your dominant race cannot be changed.