Post by Legume on Aug 13, 2017 6:39:43 GMT -5
Good afternoon. You should be honored to be in the presence of a Hero of Justice, the most honorable and virtuous Galactic Patrolman of all.
I see that you have gotten into trouble. Make sure to buy a Security Voucher and protect your life savings in the next time of need. Don't listen to the liars, you will definitely get your money back.
That blade from behind your chest that just appeared? Oh, you're just making things up now.
Lieutenant Polaris
Roster Page:
Here
Character Sheet Link:
Here
Current Goals


Find a way to tap into all of his race's abilities and powers and grow stronger.


Continue developing his schemes, expand them, grow more wealthy in the process while making sure to officially distance himself from that.


Acquire a planet of his own, one which could serve as a base for him if things go south.


Future Goals


Prevent anyone in and out of his circle from revealing his involvement in pyramid schemes and space piracy to the general public, even if murdering the blabbery mouths is necessary.


Perhaps some day become a captain, that would surely increase his influence both in GP and outside of it.


Accomplishments
Some.
Friends
As in, genuine friends?.. Few, if any. Most of his relationships that aren't related to his family are mostly based around pay, respect or common goals, like in the Ultramarines, rather than genuine friendship.
Enemies
Most of the people he could call "enemies" are now either dead or in jail, tried by the GP according to Galactic Law. Once again, he's not really a fan of such intimate relationships, whether positive or negative.
Lovers
He is married to Eis, a fellow Frost Demon patroller, although whether or not he still holds genuine feelings towards her or if they have faded by now is... a question of debate. (At least she still somewhat loves him back)
NPCS
Eis
Unlike her husband, Eis joined the Galactic Patrol out of genuine goodwill and wish to fight for the forces of good, something quite unique for her species - it is notorious for the Frieza family, after all. During the beginning of her service, she became acquainted with Polaris, and the friendship soon resulted in fiery love, continuing on with marriage and two children. However, as the person closest to the Lieutenant, Eis eventually learned of the truth behind his heroic and virtuous persona - and she didn't like it. The feelings between the two aliens took a sharp turn downward, but Eis still has hope - she hopes that there is a way to bring her husband back to good, and it's why she has not reported about it to any authorities yet.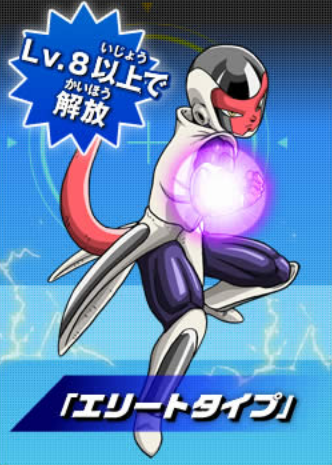 Absolut
Absolut is Polaris and Eis's son, and at the time of me writing this, he is about 11 years old. Young, inexperienced and brash, but with a lot of power potential behind him, Absolut is completely enamored with his father's achievements and heroism, and his goal in life is to become just like him. He has already entered the training program for the Galactic Patrol and trains every week to reach his father's strength, so he could go on the same heroic quests as him.
Arctica
Arctica is Polaris and Eis's daughter. She is only a few years old (and it's why I don't have a picture for her), and hasn't really had time to show off either her personality or her strength.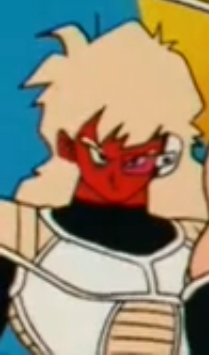 Cepelin
(Just a reminder - since all these guys below are Ultramarines, then in order to imagine them, mentally replace whatever they are wearing with a dark blue jumpsuit)
Cepelin is one of the elite warriors in the Ultramarine squad and one of the closest to his boss. He is battle-hardened and experienced, and constantly tries to act like the second-in-command in the organization, even if Polaris never designated him as one. His special attack is the "Justice Strike".
Kugel
Kugel is a former Heran space pirate and has been recently admitted as an Ultramarine, mostly thanks to his high power level and connections with space pirate circles in the North Quadrant. As he is quite a recent addition to the team, he is still not completely familiar with the inner workings of Polaris's organization, and thus usually ends up questioning one thing or the other.